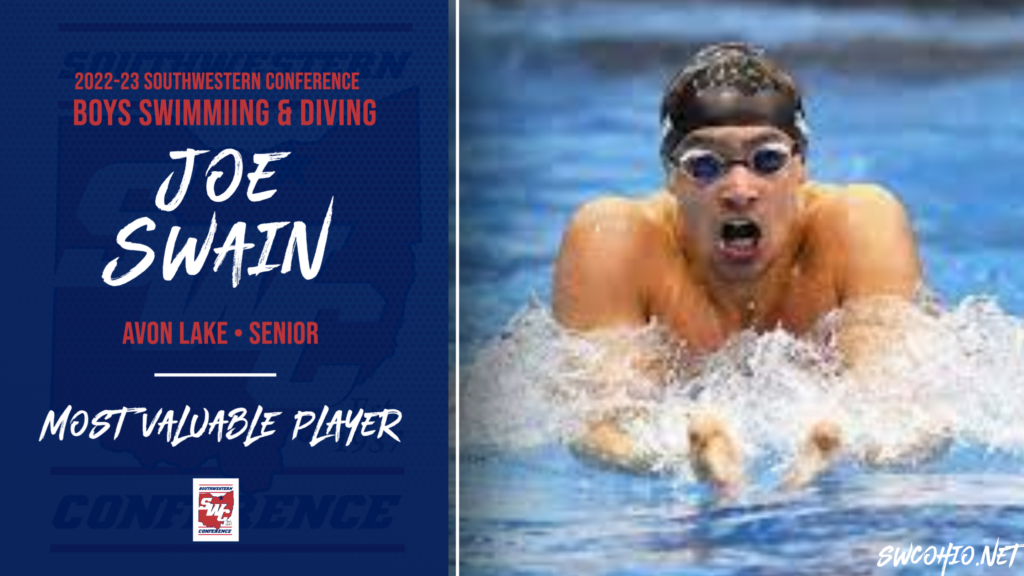 Avon Lake High School senior Joe Swain was named the 2022-23 Southwestern Conference Most Valuable Player following the conclusion of the SWC Boys Swimming and Diving season.
Avon Lake Head Coach Daniel Smith and North Ridgeville High School Head Coach Jason Young were selected 2022-23 SWC Co-Coach of the Year.
Results of the SWC Championship determined the first and second team recipients. Each school also gets two honorable mention.
2022-23 SWC MVP
Joe Swain, Avon Lake
2022-23 SWC Coach of the Year
Daniel Smith, Avon Lake
Jason Young, North Ridgeville

2022-23 All-SWC First Team
One Meter Diving – Jake Gilbride – Avon Lake
200 Yard Medley Relay – Joe Swain, Tyler Grabowski, Logan King, Nick Haven – Avon Lake
200 Yard Freestyle – Brady Link – Olmsted Falls
200 Yard IM – Joe Swain – Avon Lake
50 Yard Freestyle – Jackson Stump – Olmsted Falls
100 Yard Butterfly – Joe Swain – Avon Lake
100 Yard Freestyle – Quinn Kroneker – Avon Lake
500 Yard Freestyle – Brandon Porr – Avon
200 Yard Freestyle Relay – Nathan Buck, Logan King, Tyler Grabowski, Quinn Kroneker – Avon Lake
100 Yard Backstroke – Colin Reitzel – Amherst Steele
100 Yard Breaststroke – Brady Link – Olmsted Falls
400 Yard Freestyle Relay – Dakota Bedient, Quinn Kroneker, Nick Haveb, Joe Swain – Avon Lake
2022-23 All-SWC Second Team
One Meter Diving – Grant Higgins – Avon
200 Yard Medley Relay – Brandon Porr, Tommy Lipowski, Gavin Bello, Alex Rini – Avon
200 Yard Freestyle – Quinn Kroneker – Avon Lake
200 Yard IM – Evan Kehoe – Berea-Midpark
50 Yard Freestyle – Andrew Margolin – North Ridgeville
100 Yard Butterfly – Jackson Stump – Olmsted Falls
100 Yard Freestyle – Nick Haven – Avon Lake
500 Yard Freestyle – Mason Kinser – Amherst Steele
200 Yard Freestyle Relay – Ben Frazier, Brady Link, Andrew Surtman, Jackson Stump – Olmsted Falls
100 Yard Backstroke – Dakota Bedient – Avon Lake
100 Yard Breaststroke – Tommy Lipowski – Avon
400 Yard Freestyle Relay – Ben Frazier, Brady Link, Jackson Stump, Andrew Surtman – Olmsted Falls
2022-23 All-SWC Honorable Mention
Jaden Orlandi, Amherst Steele
Ethan Homolya, Amherst Steele
Thomas Smith, Avon
Sean Flanigan, Avon
Bilge Bayarbadrakh, Avon Lake
Yost Smith, Avon Lake
Alex Dettmer, Berea-Midpark
Adam Svoboda, Berea-Midpark
Owen Burgess, Elyria
Ryan Rubinoski, Elyria
Cole Winslow, Midview
Evan Kneisel, Midview
Stephen Watt, North Ridgeville
Andrew Young, North Ridgeville
Jonah Masterson, Olmsted Falls
Kyle Mallory, Olmsted Falls