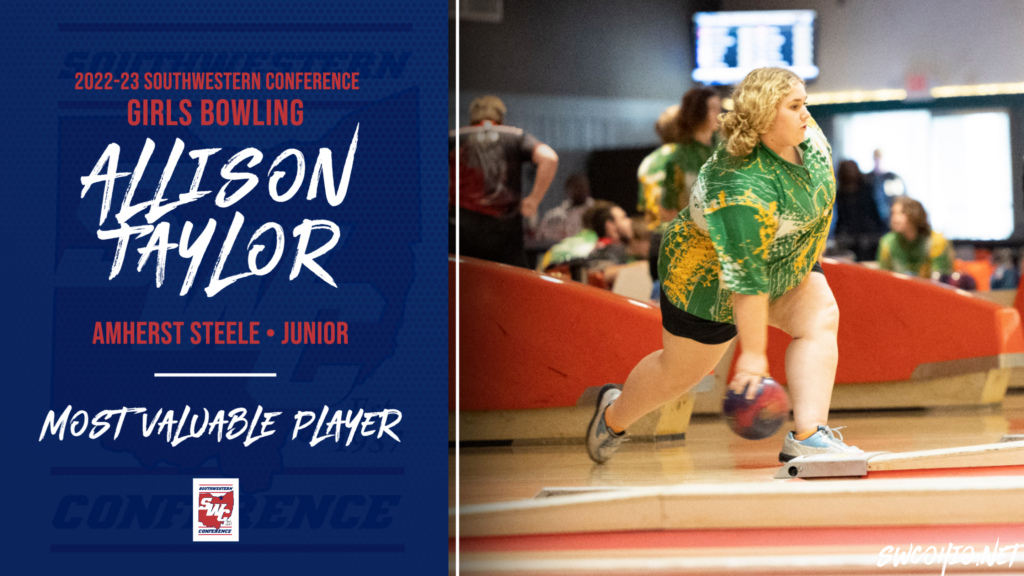 Amherst Steele High School senior Allison Taylor was named the 2022-23 Southwestern Conference Most Valuable Player following the conclusion of the SWC Girls Bowling season.
Avon Lake Head Coach Bill Gallagher was selected 2022-23 SWC Coach of the Year.
The SWC awarded 5 student-athletes first team honors and 5 more second team recognition in boys bowling. Each school also gets two honorable mention.
2022-23 SWC MVP
Allison Taylor, Amherst Steele
2022-23 SWC Coach of the Year
Bill Gallagher, Avon Lake

2022-23 All-SWC First Team
Allison Taylor, Amherst Steele
Kilee Falish, Avon
Abby Schruerger, Avon Lake
Paige Hall, Berea-Midpark
Josie Cehelnik, North Ridgeville
2022-23 All-SWC Second Team
Hannah Aschenbach, Amherst Steele
Sabrina Stawicki, Amherst Steele
Aubree Marchant, Midview
Kiersten Wozniak, North Ridgeville
Olivia Rousek, Olmsted Falls
2022-23 All-SWC Honorable Mention
Melissa Nunez, Amherst Steele
Amanda McElheny, Amherst Steele
Jayda Kloeppel, Avon
Kamryn Danielson, Avon
Emma Brown, Avon Lake
Reese Berns, Avon Lake
Tahniyah Tisdale, Berea-Midpark
Marissa Jones, Berea-Midpark
Hailey Thompson, Midview
Yelixza Ives, Midview
Kate Hugick, North Ridgeville
Allison Williams, North Ridgeville
Kayleigh Young, Olmsted Falls
Ella Young, Olmsted Falls