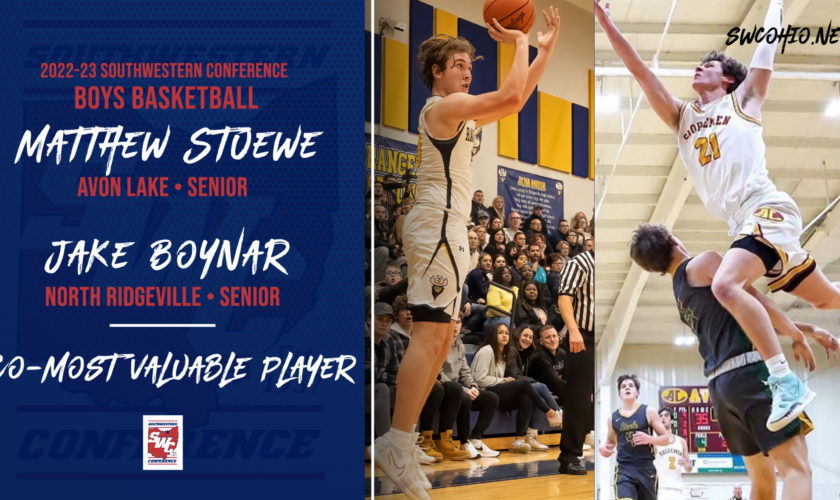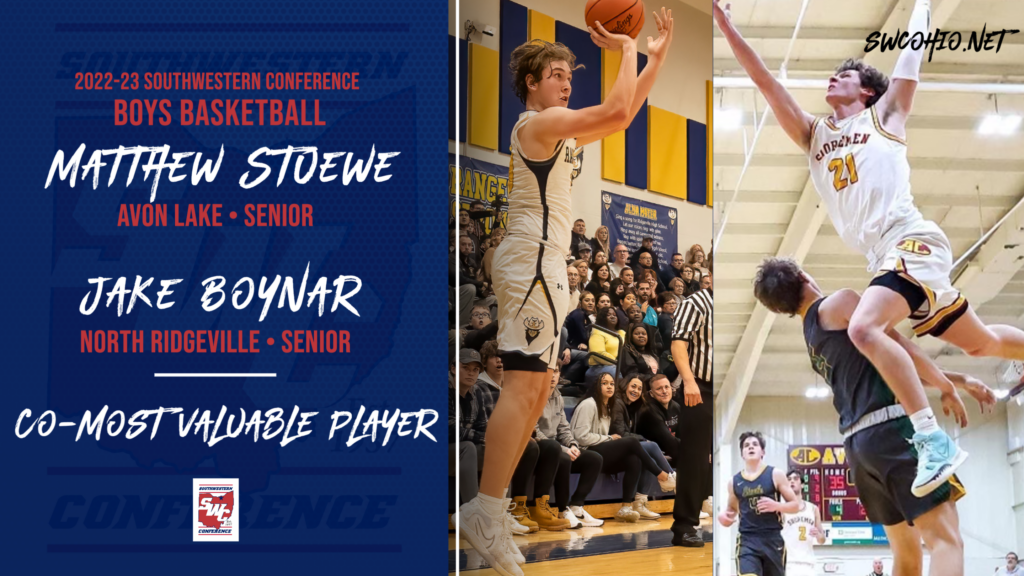 Avon Lake High School senior Matthew Stuewe and North Ridgeville High School senior Jake Boynar were named the 2022-23 Southwestern Conference Co-Most Valuable Boys Basketball Players following the conclusion of the SWC Boys Basketball season.
Avon Lake Head Coach Eric Smith, who led the Shoremen to a 19-3 league record and the program's first SWC title since 2011, was selected 2022-23 SWC Coach of the Year.
The SWC awarded 8 student-athletes first team honors and 8 more second team recognition in boys basketball. Each school also gets two honorable mention.
2022-23 SWC MVP
Matthew Stuewe, Avon Lake
Jake Boynar, North Ridgeville
2022-23 SWC Coach of the Year
Eric Smith, Avon Lake

2022-23 All-SWC First Team
Matthew Stuewe, Avon Lake
Isaac Richardson, Avon Lake
Devyn Zahursky, Berea-Midpark
Jayden Crutcher, Elyria
Ryan Walsh, Elyria
Ryan Runser, Midview
Jake Boynar, North Ridgeville
Griffin Turay, North Ridgeville
2022-23 All-SWC Second Team
Tyson Ziegler, Avon
Peyton Lerch, Avon Lake
Collin Stewart, Avon Lake
Austin Clay, Berea-Midpark
Owen Trzebuckeowski, Berea-Midpark
Mateo Medina, Elyria
Herman Plas, Midview
Michael Candow, Olmsted Falls
2022-23 All-SWC Honorable Mention
Trent Branchen, Amherst Steele
Eli Solak, Amherst Steele
Zane Austin, Avon
Nathan Farley, Avon
Danny Korwin, Avon Lake
Keegan Rudduck, Avon Lake
Matt Sensel, Berea-Midpark
Masyn Zahursky, Berea-Midpark
Steven Furcron, Elyria
BJ Todd, Elyria
David Moore, Midview
Marc Reed, Midview
Collin Jones, North Ridgeville
Jackson Stacy, North Ridgeville
Dillon Foulkes, Olmsted Falls
Evan Gilliland, Olmsted Falls