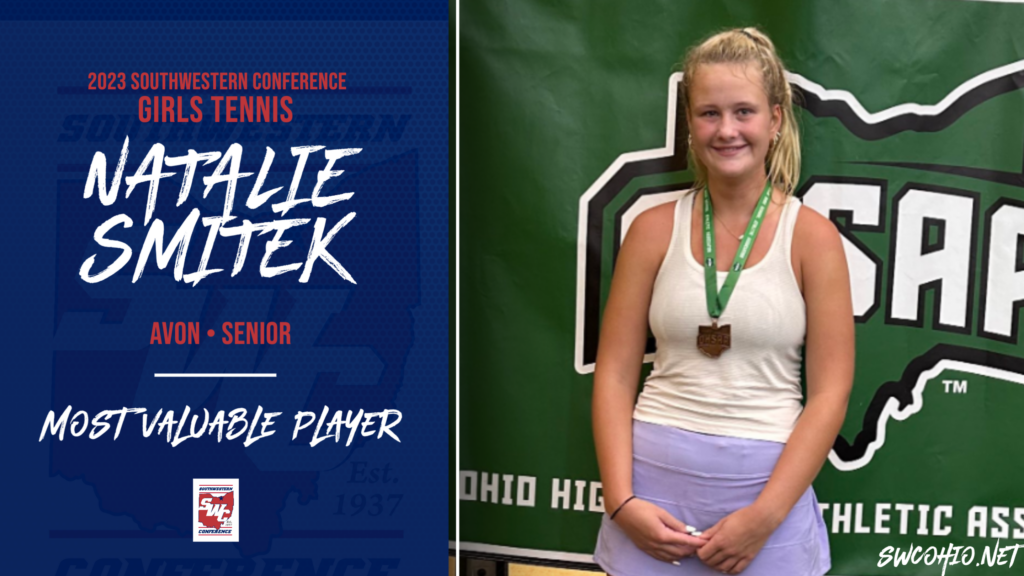 Avon High School senior Natalie Smitek was named the 2023 Southwestern Conference Most Valuable Girls Tennis Player following the conclusion of the SWC Girls Tennis season. It is the second straight season that she won the award.
Avon High School Head Coach Eric Korey was selected 2023 SWC Coach of the Year.
The SWC Tournament champions earned All-SWC first team honors, while the runner-up finishers received All-SWC second team recognition. Each school also gets two honorable mention.
2023 SWC MVP
Natalie Smitek, Avon
2023 SWC Coach of the Year
Eric Korey, Avon
2023 All-SWC First Team
First Singles: Natalie Smitek, Avon
Second Singles: Denver Johnson, Avon
Third Singles: Autumn Korey, Avon Lake
First Doubles: Ishani Kishorepuria & Victoria Sidoti, Avon
Second Doubles: Julianne Hindman & Maddie Huen, Avon
2023 All-SWC Second Team
First Singles: Amber Korey, Avon Lake
Second Singles: Elizabeth Meiners, Avon Lake
Third Singles: Ashley DeHaven, Avon
First Doubles: Makenzie Anspaugh & Grace He, Avon Lake
Second Doubles: Vanessa Baker & Avery Brown, Avon Lake
2023 All-SWC Honorable Mention
Kayla Bussard, Amherst Steele
Elaine Kapalin, Amherst Steele
Katelyn Lehmann, Berea-Midpark
Malayna Weber, Berea-Midpark
Julia Abbott, Elyria
Rachel Bowens, Elyria
Natalie Lisicky, Midview
Kat Yates, Midview
MiVan Pham, North Ridgeville
Kaylee Queen, North Ridgeville
Abby Pirnat, Olmsted Falls
Mia Russell, Olmsted Falls