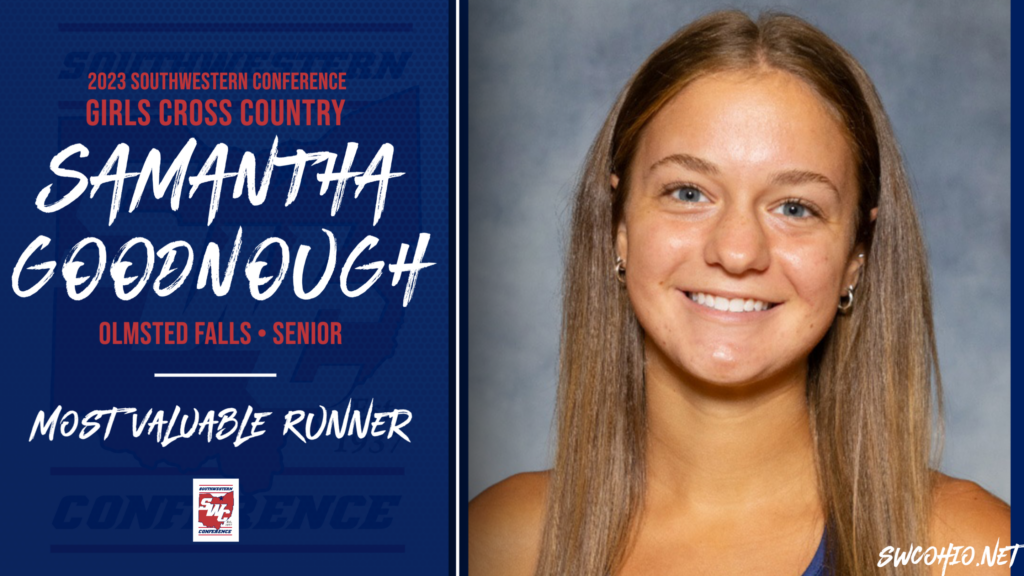 Olmsted Falls High School senior Samantha Goodnough was named the 2023 Southwestern Conference Girls Cross Country Most Valuable Runner following the conclusion of the SWC Girls Cross Country season.
Avon High School Head Coach Justin Carroll was selected 2023 SWC Coach of the Year.
The top eight runners at the SWC Championship earned first team honors while the next eight finishers garnered second team recognition. Each school also gets two honorable mention.
2023 SWC MVP
Samantha Goodnough, Olmsted Falls
2023 SWC Coach of the Year
Justin Carroll, Avon
2023 All-SWC First Team
Samantha Goodnough, Olmsted Falls
Kaitlyn Reese, Avon
Ava Melott, Avon
Kylie Bennington, Avon Lake
Katherine Low, Amherst Steele
Rachel Delap, Olmsted Falls
Olivia Pajak, Avon
Alaina Alflen, Amherst Steele
2023 All-SWC Second Team
Aubrey Prada, Olmsted Falls
Carolina Reed, Avon
Bailey Bechtel, Berea-Midpark
Rosalie Kapalin, Amherst Steele
Winter Carrell, Amherst Steele
Anna Argabright, Avon
Nora Darkow, Amherst Steele
Eloise Gravel, Berea-Midpark
2023 All-SWC Honorable Mention
Liana Del Valle, Amherst Steele
Sophia Pecora, Amherst Steele
Sarah Pomfrey, Avon
Anika Singh, Avon
Kelsey Sheehan, Avon Lake
Cassidy Valerino, Avon Lake
Emma Garr, Berea-Midpark
Harper Johnson, Berea-Midpark
Tori Bell, Elyria
Erin Crouse, Elyria
Grace Burdorff, Midview
Reagan Henely, Midview
Alexandrea Cicerachi, North Ridgeville
Veronica Scialabba, North Ridgeville
Kendall McCray, Olmsted Falls
Abby Thompson, Olmsted Falls