ELYRIA, Ohio – Avon High School captured the 2023 Southwestern Conference Girls Cross Country Championship Saturday (October 14) on the campus of Lorain County Community College. It is the Eagles' third straight league title. [Complete Results]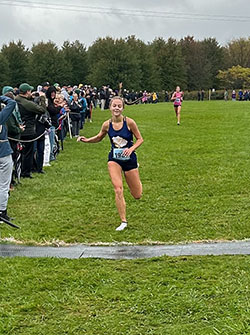 Olmsted Falls senior Samantha Goodnough captured the SWC individual title with a time of 18:41.13.
For the second straight year, Avon's sophomore Kaitlyn Reese took runner-up by crossing the line in 18:46.97. Four of her teammates finished in the top 14 to help the Eagles compile a league-best 36 team points. Freshmen Ava Melott (19:54.41) placed third, sophomore Olivia Pajak (20:59.23) was seventh, junior Carolina Reed (21:06.83) finished 10th and senior Anna Argabright (21:20.97) took 14th.
Amherst Steele High School placed second as a team with 53 points, while Olmsted Falls finished third with 67 points and Avon Lake was fourth with 92 points.
Avon Lake senior Kylie Bennington (4th / 20:16.02), Amherst junior Katherin Low (5th / 20:36.30), Olmsted Falls senior Rachel Delap (6th / 20:44.40), Amherst sophomore Alaina Alflen (8th / 20:59.49) and Olmsted Falls sophomore Aubrey Prada (9th / 21:04.92) rounded out the top 10 finishers.
Team Results
1. Avon – 36
2. Amherst Steele – 53
3. Olmsted Falls – 67
4. Avon Lake – 92
5. Berea-Midpark – 118
6. North Ridgeville – 187
7. Elyria – 189
8. Midview– 210