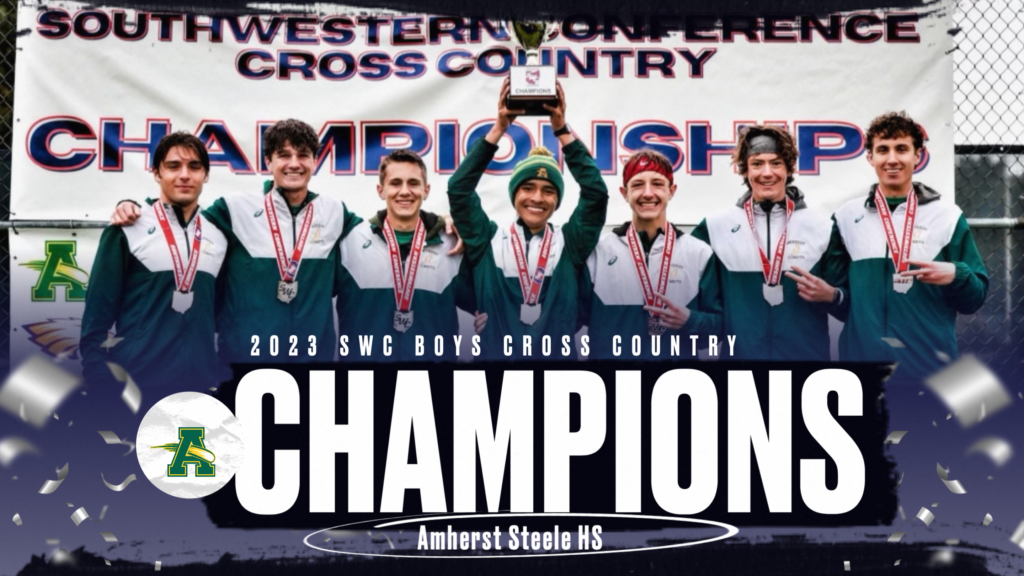 ELYRIA, Ohio – Amherst Steele High School, fueled by the top two finishers for the second straight season, captured the 2023 Southwestern Conference Boys Cross Country Championship Saturday (October 14) on the campus of Lorain County Community College. [Complete Results]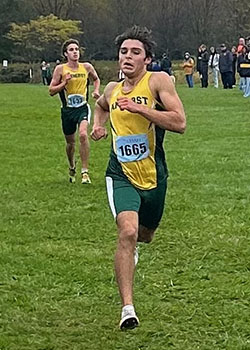 Comet senior Ty Perez won the 5,000 meter championship for a record third time in his career. The 2020, 2022 and 2023 champion and 2021 runner-up finished with a time of 16:06.17.  Classmate Luke Bowlsby, the 2021 champion, finished right behind Perez for a second straight season with a time of 16:08.16.
Senior Henry Isaacs (17:15.42), freshmen Zane Rhoads (17:23.47) and junior Ben Susi (17:27.68) finished 5th and 8th and 9th, respectively, to help Amherst compile a league-best 25 points.
Midview High School had four runners finish in the top 11 to hold off Avon high School for second place again in 2023. Last year, the Middies defeated the Eagles by one point (72-73). This season, they captured runner-up by two points (63-65). Olmsted Falls High School placed fourth.
Midview senior twins Jared Robinson (16:51.51) and Dylan Robinson (17:14.34) finished third and fourth overall, while Middie junior Lucas Edgell (6th / 17:18.08), Avon junior Franco Gallo (7th / 17:19.43) and Amherst junior Jacob Michalak (10th / 17:28.68) rounded out the top 10.
Team Results
1. Amherst Steele – 25
2. Midview – 63
3. Avon – 65
4. Olmsted Falls – 128
5. Avon Lake – 133
6. North Ridgeville – 159
7. Berea-Midpark – 161
8. Elyria – 251