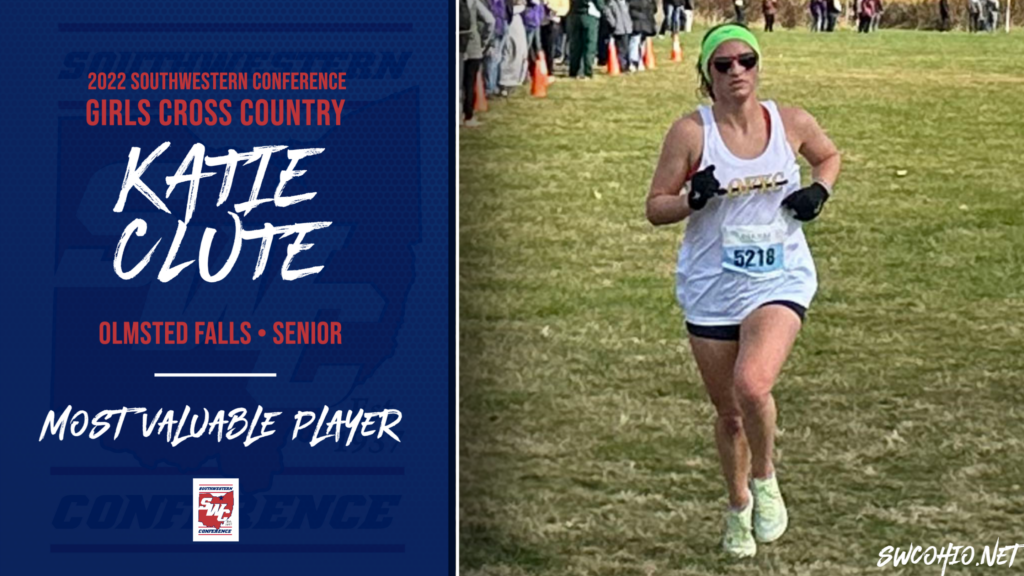 Olmsted Falls High School senior Katie Clute was named the 2022 Southwestern Conference Most Valuable Girls Cross Country Runner following the conclusion of the SWC Girls Cross Country season.
Avon High School Head Coach Justin Carroll was selected 2022 SWC Coach of the Year.
The top eight runners at the SWC Championship earned first team honors while the next eight finishers garnered second team recognition. Each school also gets two honorable mention.
2022 SWC MVP
Katie Clute, Olmsted Falls
2022 SWC Coach of the Year
Justin Carroll, Avon
2022 All-SWC First Team
Katie Clute, Olmsted Falls
Kaitlyn Reese, Avon
Brooke Bechtel, Berea-Midpark
Aurora Wilson, Amherst Steele
Anna Argabright, Avon
Katherine Low, Amherst Steele
Samantha Goodnough, Olmsted Falls
Kylie Bennington, Avon Lake
2022 All-SWC Second Team
Anika Singh, Avon
Catherine Turner, Amherst Steele
Maddie Gettings, Avon
Maddie Betz, Avon Lake
Sarah Pomfrey, Avon
Sophia Pecora, Amherst Steele
Savannah Reed, Avon
Aida Gesink, Berea-Midpark
2022 All-SWC Honorable Mention
Alaina Alfen, Amherst Steele
Winter Carrell, Amherst Steele
Jessica Pendelton, Avon
Carolina Reed, Avon
Sophia Elios, Avon Lake
Termeh Shahmir, Avon Lake
Bailey Bechtel, Berea-Midpark
Alexis Verdell, Berea-Midpark
Tori Bell, Elyria
Erin Crouse, Elyria
Grace Henely, Midview
Reagan Henely, Midview
Ruby Mitchell, North Ridgeville
Madelyn Palcic, North Ridgeville
Rachel Delap, Olmsted Falls
Aubrey Prada, Olmsted Falls