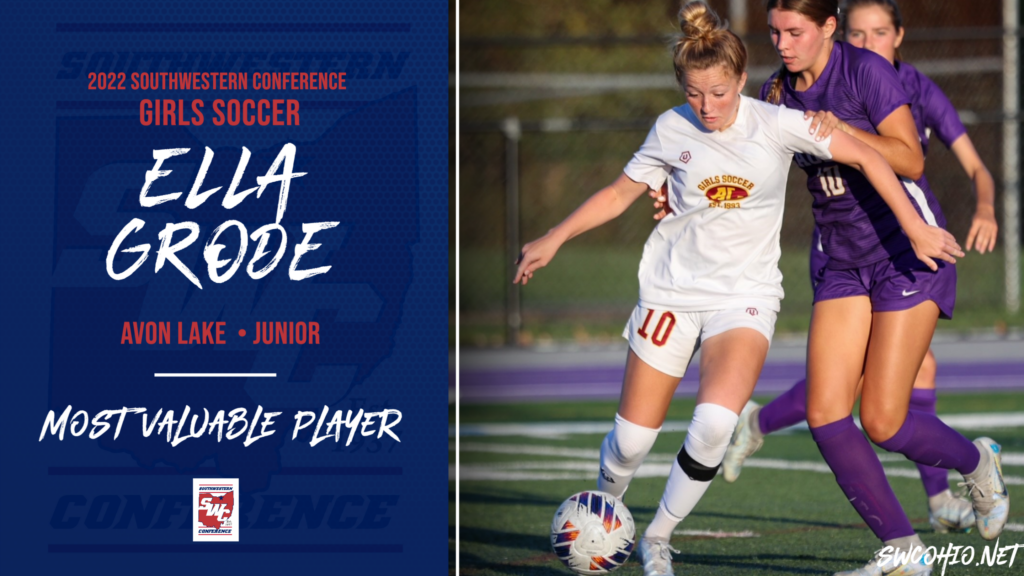 Avon Lake High School junior Ella Grode was named the 2022 Southwestern Conference Most Valuable Girls Soccer Player following the conclusion of the SWC Girls Soccer season.
Avon Lake High School Head Coach Brian Salco was selected 2022 SWC Coach of the Year.
The SWC awarded 15 student-athletes first team honors and 15 more second team recognition in girls soccer. Each school also gets two honorable mention.
2022 SWC MVP
Ella Grode, Avon Lake
2022 SWC Coach of the Year
Brian Salco, Avon Lake
2022 All-SWC First Team
Kamille Coleman, Amherst Steele
Natalie Pieban, Amherst Steele
Shaleigh Beckrest, Avon
Gianna Scott, Avon
Isabella Fusco, Avon
Ella Grode, Avon Lake
Rachel Sheehan, Avon Lake
Sarah Van Euwen, Avon Lake
Megan McCarthy, Berea-Midpark
Ava Williams, Elyria
Erica Baldoza, Midview
Bella Antonio, North Ridgeville
Bri Fitzpatrick, Olmsted Falls
Hailey Johnson, Olmsted Falls
2022 All-SWC First Team Goalkeeper
Ariana Vakos, Avon
2022 All-SWC Second Team
Isabelle McGee, Amherst Steele
Paige Miller, Amherst Steele
Sian Blake, Avon
Jane Rini, Avon
Olivia Page, Avon
Laura Caryl, Avon Lake
Lexie Gorczyca, Avon Lake
Erika Parker, Avon Lake
Bella Baglier, Berea-Midpark
Hannah Miller, Elyria
Bryan Willard, Midview
Kali Baker, North Ridgeville
Natalie Sprague, Olmsted Falls
Liz Scheeff, Olmsted Falls
2022 All-SWC Second Team Goalkeeper
Leah Allman, Olmsted Falls

2022 All-SWC Honorable Mention
Grace Bruewer, Amherst Steele
Julia Ciura, Amherst Steele
Skylar Kruszka, Avon
Natalie Santoro, Avon
Maria Copfer, Avon Lake
Camryn Koski, Avon Lake
Delaney Cummings, Berea-Midpark
Ava Vargo, Berea-Midpark
Dejaney Julien, Elyria
Audrey Prechtel, Elyria
Nora Sgro, Midview
Riley Willard, Midview
Katie DeChant, North Ridgeville
Maddie Lally, North Ridgeville
Ivy Corrigan, Olmsted Falls
Shannon Voelker, Olmsted Falls