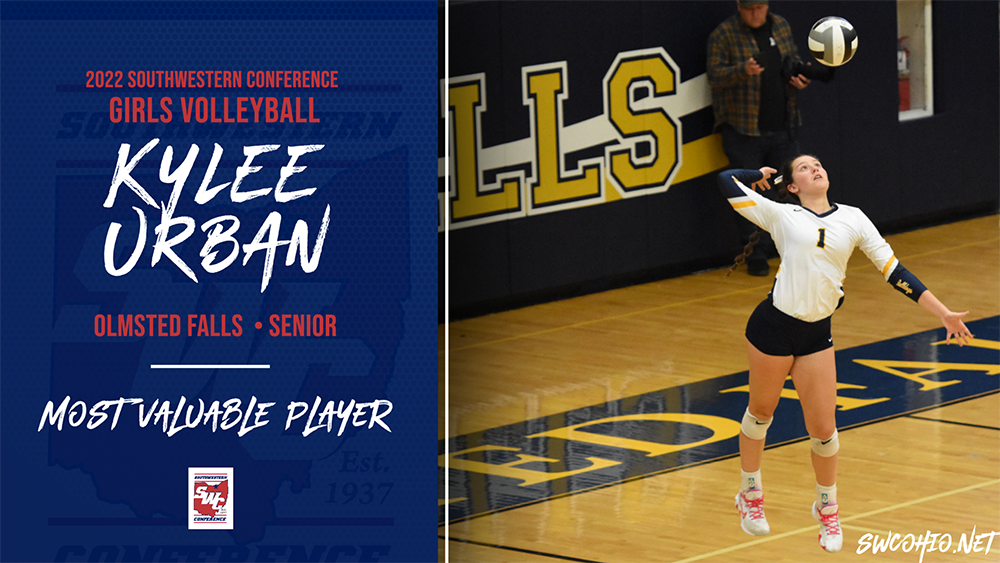 Olmsted Falls High School senior Kylee Urban was named the 2022 Southwestern Conference Most Valuable Girls Volleyball Player following the conclusion of the SWC Girls Volleyball season.
Avon Lake High School Head Coach Shana Miocinovic and Olmsted Falls Head Coach Brigid Radigan were selected 2022 SWC Co-Coaches of the Year.
The SWC awards nine student-athletes first team honors and nine more second team recognition in girls volleyball. Each school also gets two honorable mention.
2022 SWC MVP
Kylee Urban, Olmsted Falls
2022 SWC Co-Coaches of the Year
Shana Miocinovic, Avon Lake
Brigid Radigan, Olmsted Falls
2022 All-SWC First Team
Ava Haddix, Amherst Steele
Nia Hall, Amherst Steele
Avery Abfall, Avon
Aubrey Kirk, Avon Lake
Stephanie Smith, Avon Lake
Lily Tomasheski, Midview
Adalynn Ginley, North Ridgeville
Kylee Urban, Olmsted Falls
Addie Odon, Olmsted Falls
2022 All-SWC Second Team
Cecily Waynar, Amherst Steele
Lindsey McConihe, Amherst Steele
Grace Busold, Avon
Rachel Meyer, Avon Lake
Danica McArthur, Avon Lake
Lauren Lantow, Berea-Midpark
Breanna Ginley, North Ridgeville
Alex Palmer, Olmsted Falls
Gabby Pellerite, Olmsted Falls
2022 All-SWC Honorable Mention
Isa Gotsis, Amherst Steele
Kendra Shimrock, Amherst Steele
London Stone, Avon
Lily Hamilton, Avon
Lily Rice, Avon Lake
Izzy Loeffler, Avon Lake
Ali Reilly, Berea-Midpark
Emma Roig, Berea-Midpark
Caitlyn Underwood, Elyria
Alyce Williams, Elyria
Kaitlyn Heuser, Midview
Alexis McKee, Midview
Sarah Walton, North Ridgeville
Hailey Miller, North Ridgeville
Ally Rumancik, Olmsted Falls
Carly Crozier, Olmsted Falls