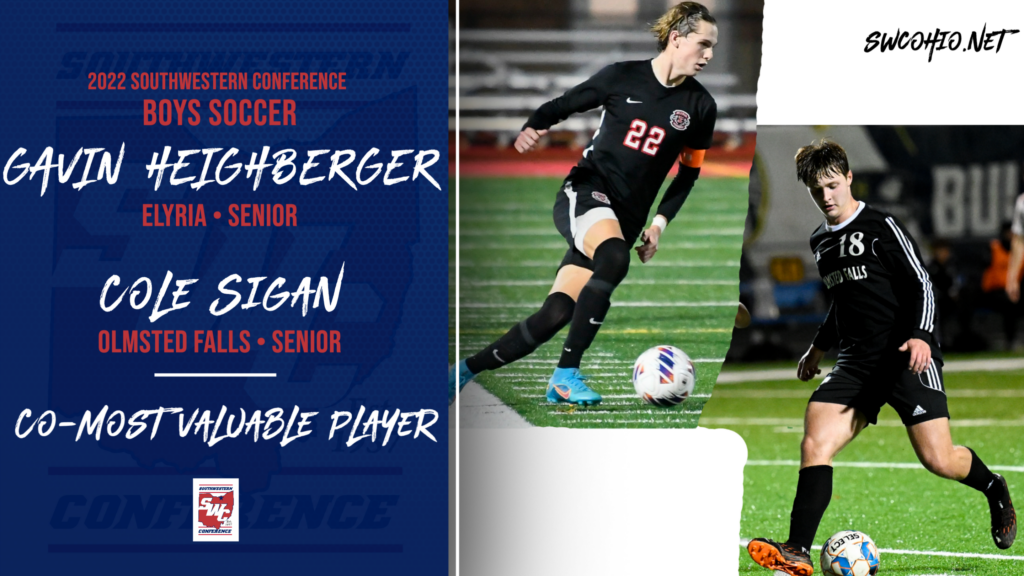 Elyria High School senior Gavin Heighberger and Olmsted Falls High School senior Cole Sigan were named the 2022 Southwestern Conference Co-Most Valuable Boys Soccer Players following the conclusion of the SWC Boys Soccer season.
Olmsted Falls High School Head Coach Travis Bosanac was selected 2022 SWC Coach of the Year.
The SWC awarded 14 student-athletes first team honors and 14 more second team recognition in girls soccer. Each school also gets two honorable mention.
2022 SWC Co-MVP
Gavin Heighberger, Elyria
Cole Sigan, Olmsted Falls
2022 SWC Coach of the Year
Travis Bosanac, Olmsted Falls
2022 All-SWC First Team
Blake Kubasak, Amherst Steele
Gavin Tatarczuk, Avon
Sean Wilson, Avon
Will Fazio, Avon Lake
Max Kramhoeller, Avon Lake
Noah Sandahl, Berea-Midpark
Gavin Heighberger, Elyria
Trevor Riemer, Midview
Liam Hill, North Ridgeville
Dino Panagiotou, North Ridgeville
Carmine Boscarello, Olmsted Falls
Cole Sigan, Olmsted Falls
Caden Vasquez, Olmsted Falls
2022 All-SWC First Team Goalkeeper
Seth Warrick, Avon
2022 All-SWC Second Team
Aidan Hylton, Amherst Steele
Colten Fitch, Avon
John Foye, Avon
Brendan Sheehan, Avon Lake
Ben Tyson, Avon Lake
Austin Adams, Berea-Midpark
Jaden McCall, Elyria
Carter Richardson, Midview
Logan Margolin, North Ridgeville
Tayo McLaughlin, North Ridgeville
Sean Gillette, Olmsted Falls
Aidan Gomez, Olmsted Falls
Stefan Kolar, Olmsted Falls
2022 All-SWC Second Team Goalkeeper
Callen Kaufman, Olmsted Falls

2022 All-SWC Honorable Mention
Miles Gerard, Amherst Steele
Ryan Graber, Amherst Steele
Gabe Kitchen, Avon
Matthew Mallott, Avon
Patrick Haley, Avon Lake
Nicholas Holmoka, Avon Lake
Patrick Ostrander, Berea-Midpark
Solomon Skernivitz, Berea-Midpark
Tim Rader, Elyria
Bryan Schnetzler, Elyria
Mason Kucera, Midview
Ryan Runser, Midview
Noah Braun, North Ridgeville
Aidan Wood, North Ridgeville
Jack Birch, Olmsted Falls
Owen Mansell, Olmsted Falls