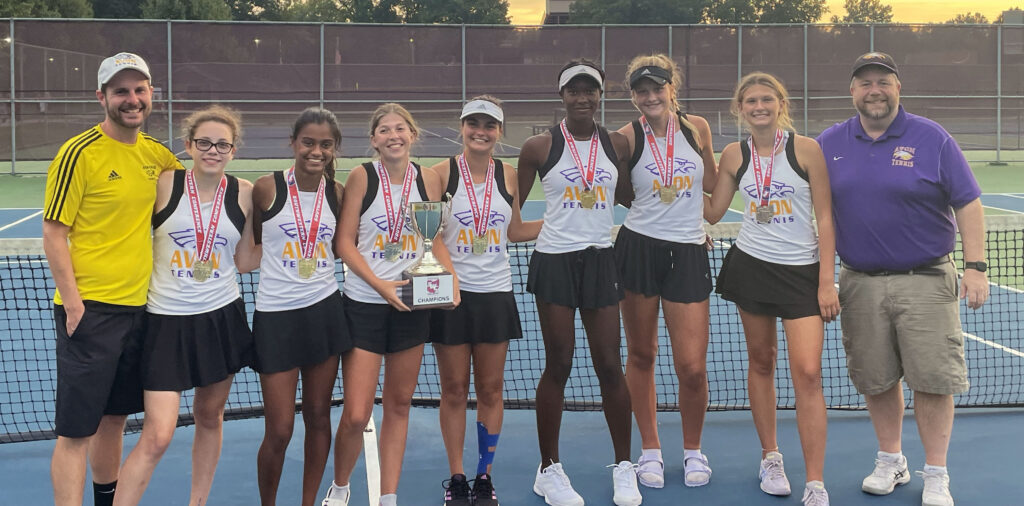 Avon High School earned 4 of 5 contested titles to take home its fourth straight Southwestern Conference Girls Tennis Tournament Championship Tuesday (September 20) on the campus of Avon Lake High School.
The Eagles swept the three singles brackets. Junior Natalie Smitek defeated Avon Lake sophomore Amber Korey 6-3, 6-0 to win the First Singles crown, her first in the SWC. Junior Denver Johnson won her third-straight SWC championship by defeating Avon Lake sophomore Autumn Korey 6-1, 6-3 in the finals of the Second Singles bracket. Johnson's previous two league wins came at First Singles. Senior Amelia Tomak topped Avon Lake sophomore Elizabeth Meiners 6-1, 6-2 at Third Singles.
Midview High School senior Gabby Yates and sophomore Kat Yates made program history by taking home the 2022 title in First Doubles. It is the first time a Midview student-athlete ever won a SWC Tennis Championship. The duo defeated Avon senior Julia Kacenjar and junior Victoria Sidoti 7-5, 6-3.
Avon juniors Ishani Kishorepuria and Julianne Hindman earned a victory in the finals of Second Doubles, the most highly contested of the championship matches. They defeated Avon Lake senior Ava Keller and junior Cailey Zanny 4-6, 6-3, 7-5.
Final Team Standings
1. Avon 39
2. Avon Lake 34
3. Amherst Steele 25
4. Olmsted Falls 22
5. Midview 19
6 Berea-Midpark 16
7. Elyria 14
8. North Ridgeville 11