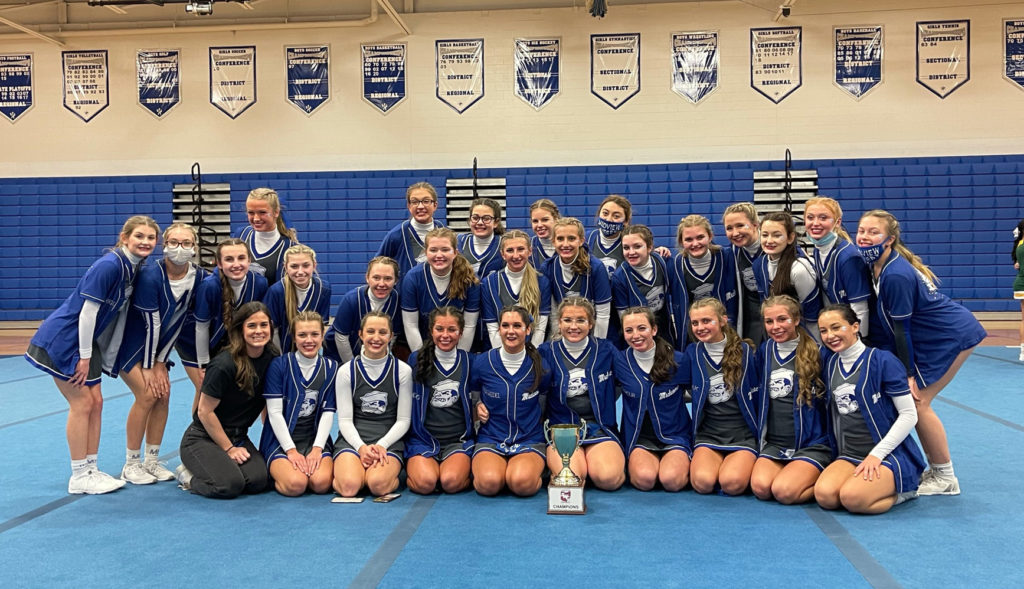 EATON TWP — Fueled by a season-high and first place performance in its Game Day routine, host Midview High School captured its first ever Southwestern Conference Cheerleading Championship Saturday (January 23) inside Kubuski Gymnasium. Amherst Steele High School took home first place in the Traditional Competition division. [Archived Video of the Performance]
The 2020-21 SWC Cheerleading Competition was originally scheduled for early November. However, COVID-19 forced its postponement until January and as a non-spectator event like all SWC indoor Championships. In addition, this was the SWC debut of the Game Day Division. Winners were crowned for both Game Day and Traditional Competition routines with the combined score making up the Overall Standings. The Overall Standings will help determine All-SWC, which will be announced at a later date.
The Middies, who finished third at UCA Game Day Nationals in 2019-20, posted a Game Day score of 93.2 and a third-place Traditional Competition finish with 78.3 points for a combined score of 171.5 out of a possible 200 points.
Amherst Steele used an evening-best 83-point Traditional Competition routine and a 67.2 Game Day performance to place third overall with 150.2 points. Avon Lake High School who finished runner-up in both divisions—79.9 in Traditional Competition and 75.3 in Game Day—finished second in the overall standings with 155.2 points. Avon High School placed fifth in Traditional Comp (62.5) and third in Game Day (74.2) to finish fourth in the standings. Olmsted Falls High School (75.7) placed fourth in the Traditional Competition, while Westlake High School (67.5) finished fourth in the Game Day division.
Overall Standings
Midview – 171.5
Avon Lake – 155.2
Amherst Steele – 150.2
Avon – 136.7
Olmsted Falls – 75.7
Westlake – 67.5
Traditional Competition Standings
Amherst Steele – 83
Avon Lake – 79.9
Midview – 78.3
Olmsted Falls – 75.7
Avon – 62.5
Game Day Standings
Midview – 93.2
Avon Lake – 75.3
Avon – 74.2
Westlake – 67.5
Amherst Steele – 67.2