Berea-Midpark won the Southwestern Conference Championship in boys bowling after rolling a team score of 3967 in the 2019 Southwestern Conference Boys Bowling Tournament at Buckeye Lanes.
The conference title is determined by both the Eagle Open (40%) and the Southwestern Conference Tournament (60%).  The Titans were followed by Olmsted Falls (3584) and Westlake (3572).
North Ridgeville's Dylan Mishak was awarded the top bowler with his high school of 256 on the day, and an average game of 216.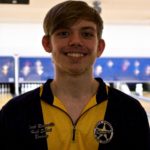 Team Results
1. Berea-Midpark – 3793.8
2. Olmsted Falls – 3649.6
3. Westlake – 3540.8
4. North Olmsted – 3309.0
5. North Ridgeville – 3284.4
6. Avon Lake – 3216.0
7. Amherst Steele – 3084.0
8. Midview – 3011.2
9. Avon – 2622.8
10. Lakewood – 2140.4