Westlake won the Southwestern Conference Championship in girls bowling after rolling a team score of 3223 in the 2019
Southwestern Conference Girls Bowling Tournament at Buckeye Lanes.
The conference title is determined by both the Eagle Open (40%) and the Southwestern Conference Tournament (60%).  The Lady Demons were followed by Berea-Midpark (3194) and North Olmsted (2853).
Westlake's Peyton Hedges was awarded the top bowler with her high score of 215 and an average score of 172.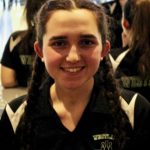 Team Results
1. Westlake – 3251.8
2. Berea-Midpark – 3173.2
3. North Olmsted – 2863.8
4. Amherst Steele – 2842.0
5. Midview – 2830.2
6. Avon Lake – 2764.4
7. Olmsted Falls – 2712.0
8. North Ridgeville – 2108.2
9. Lakewood – 1916.2