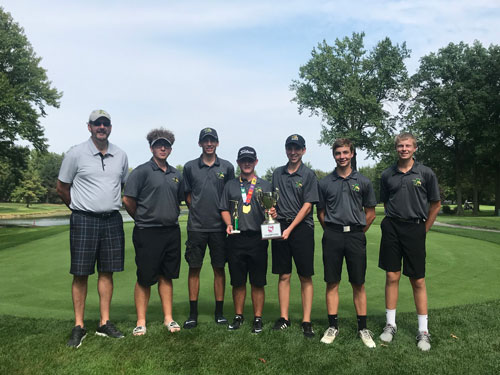 Amherst Steele High School, fueled by individual medalist Jacob Fitzpatrick and runner-up Austin Bray, earned a hard-fought victory at the 2018 Southwestern Conference Boys Golf Tournament Thursday (September 20) on the Legacy 18 of Sweetbriar Golf Club in Avon Lake.
Fitzpatrick fired a two-over-par 72 from the Blue Tees, finishing even on the front nine and plus-two on the back nine. Bray followed closely with a 77, while Brent Baumgartner had a 82 and Zach Pena a 83 to give the Comets a team score of 316.
Avon High School finished runner-up in the team standings. The Eagles accumulated 327 points from Jack Gerborg (80), Nolan King (81), Cade Grant (83) and Matt Granitto (83).
Olmsted Falls High School (328) placed third, while Westlake High School (332) was fourth and Avon Lake High School (333) finished fifth. North Olmsted High School (338), North Ridgeville High School (347), Midview (361), Berea-Midpark High School (398) and Lakewood High School (400) completed the team standings.
North Ridgeville's Alec Matej shot a 78 to finish third as an individual, while Westlake's Matt Romansky and Luke Vulku both shot a 79. Gerborg, Avon Lake's Ryan Shinko, North Ridgville's Greg Codner and Olmsted Falls' Nick Mills followed with an 80. Five others finished in the top 10 with an 81.