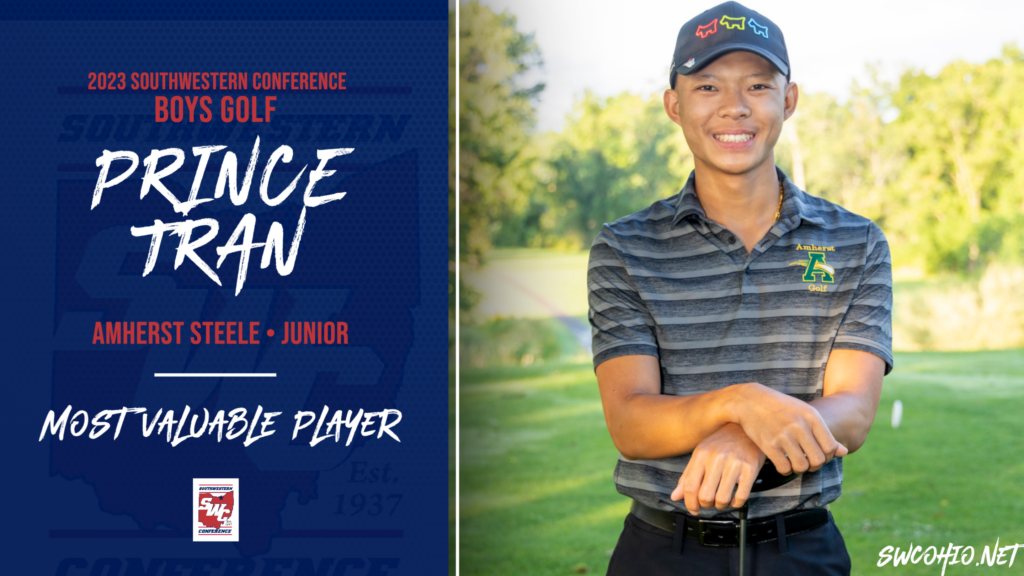 Amherst Steele High School junior Prince Tran was named the 2023 Southwestern Conference Most Valuable Boys Golfer following the conclusion of the SWC Boys Golf season. Prince finished with the league's best 2.358 "score minus course rating."
Comet Head Coach Mitch Gillam was selected 2023 SWC Coach of the Year after leading the Comets to their first SWC title since the 1997-98 season.
The top six golfers earned All-SWC first team honors, while the next six received All-SWC second team recognition. Each school also gets two honorable mention.
2023 SWC MVP
Prince Tran, Amherst Steele
2023 SWC Coach of the Year
Mitch Gillam, Amherst Steele

2023 All-SWC First Team
Prince Tran, Amherst Steele – 2.358
Ryan Yoder, Amherst Steele – 2.5477
Dylan Sowers, Olmsted Falls – 3.185
Tim Mai, Avon – 3.491
Hunter McCourt, Avon – 4.050
Kyle Ritter, Avon Lake – 4.085
2023 All-SWC Second Team
Cole Cartright, Avon Lake – 4.238
Landen Bray, Amherst Steele – 4.246
Tommy Urbancic, Avon – 5.145
Zane Austin, Avon – 5.633
Jack Hecei, Avon – 5.680
Alek Kissane, Amherst Steele – 5.933
2023 All-SWC Honorable Mention
Mitchell Diehl, Amherst Steele
Jacob Sprinkle, Amherst Steele
Jack Cherrstrom, Avon
Cooper Lodge, Avon
Nolan Clancy, Avon Lake
Nick Hurd, Avon Lake
Andrew Gregor, Berea-Midpark
Luke Nedoma, Berea-Midpark
Maxwell Blewitt, Elyria
Andrew Peacock, Elyria
Drew DiFranco, Midview
Ethan Taylor, Midview
Nick Mealey, North Ridgeville
Kyle Urban, North Ridgeville
Peyton Katitus, Olmsted Falls
Cole Odon, Olmsted Falls