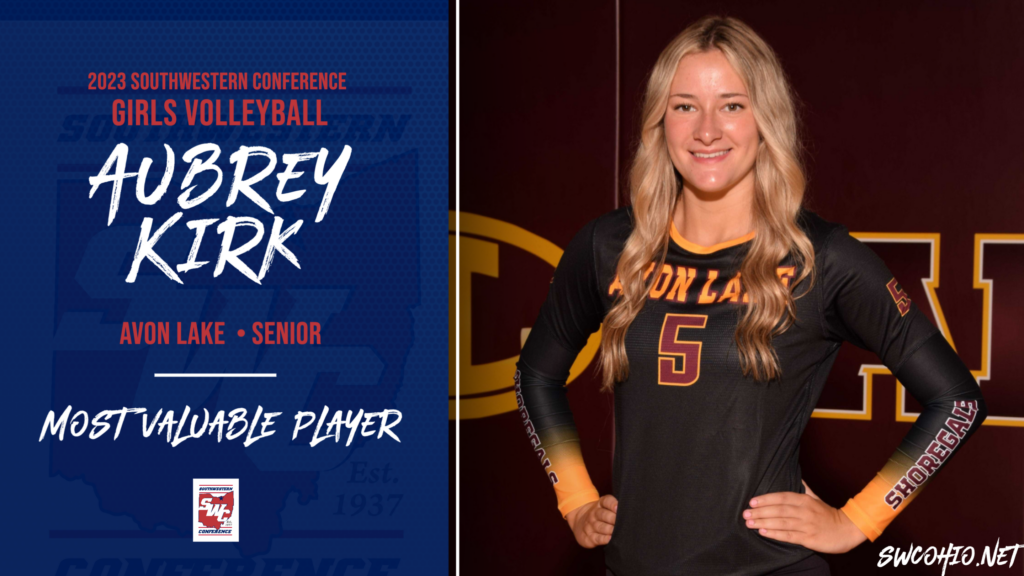 Avon Lake  High School senior Aubrey Kirk was named the 2023 Southwestern Conference Most Valuable Girls Volleyball Player following the conclusion of the SWC Girls Volleyball season.
Avon High School Head Coach Kara Coffman and Avon Lake High School Head Coach Shana Miocinovic were selected 2023 SWC Co-Coaches of the Year.
The SWC awards nine student-athletes first team honors and nine more second team recognition in girls volleyball. Each school also gets two honorable mention.
2023 SWC MVP
Aubrey Kirk, Avon Lake
2023 SWC Co-Coaches of the Year
Kara Coffman, Avon
Shana Miocinovic, Avon Lake
2023 All-SWC First Team
Cecily Waynar, Amherst Steele
Grace Busold, Avon
Londyn Stone, Avon
Aubrey Kirk, Avon Lake
Stephanie Smith, Avon Lake
Lily Tomasheski, Midview
Hailey Miller, North Ridgeville
Hayden Hess, Olmsted Falls
Emily Odon, Olmsted Falls
2023 All-SWC Second Team
Sydney Alto, Amherst Steele
Lily Hamilton, Avon
Bethany Sherwood, Avon
Danica McArthur, Avon Lake
Rachel Meyer, Avon Lake
Taliyah Kent, Berea-Midpark
Sarah Riley, Midview
Liv Bemer, North Ridgeville
Addie Koontz, Olmsted Falls
2023 All-SWC Honorable Mention
Ava Darmos, Amherst Steele
Roxy Trunzo, Amherst Steele
Abby Christy, Avon
Molly Drenik, Avon
Sydney Haibach, Avon Lake
Sydney Krieg, Avon Lake
Lilly Kekic, Berea-Midpark
Kaitlyn Sawchyn, Berea-Midpark
Morgan Palos, Elyria
Kiera Schibley, Elyria
Kate Dolin, Midview
Kendyl Gregor, Midview
Alyssa Eland, North Ridgeville
Maddie Eldridge, North Ridgeville
Maya Awad, Olmsted Falls
Ally Rumancik, Olmsted Falls