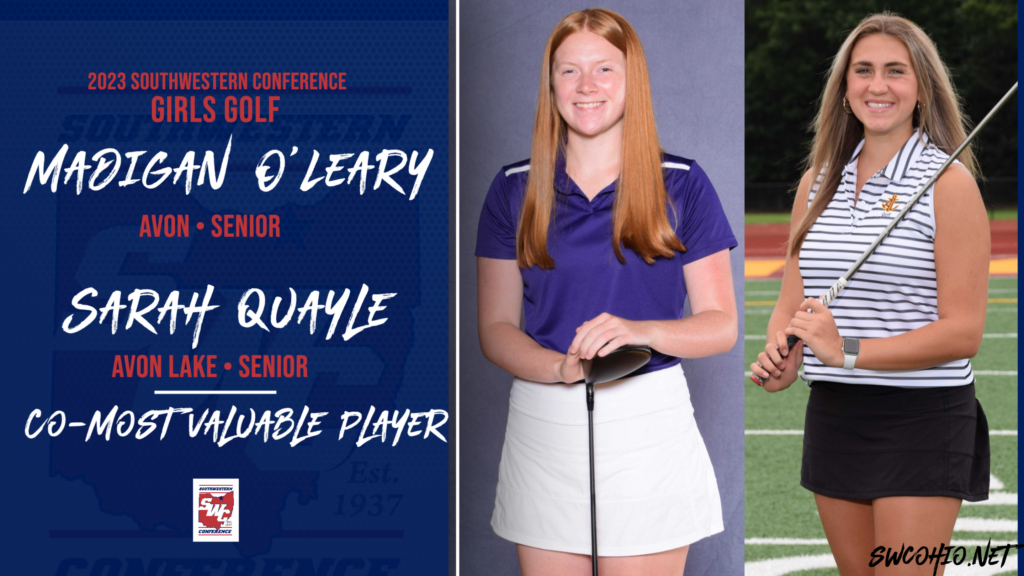 Avon High School senior Madigan O'Leary and Avon Lake senior Sarah Quayle were named the 2023 Southwestern Conference Co-Most Valuable Girls Golf Players following the conclusion of the SWC Girls Golf season.
Avon Lake High School Head Coach Krystine Frisch was selected 2023 SWC Coach of the Year.
The SWC awards six student-athletes first team honors and six more second team recognition in girls golf. Each school also gets two honorable mention.
2023 SWC Co-MVPs
Madigan O'Leary, Avon
Sarah Quayle, Avon Lake
2023 SWC Coach of the Year
Krystine Frisch, Avon Lake
2023 All-SWC First Team
Ally Day, Avon
Madigan O'Leary, Avon
Sarah Quayle, Avon Lake
Liv Ritter, Avon Lake
Olivia Tobin, Avon Lake
Ella Atkins, Olmsted Falls
2023 All-SWC Second Team
Lizzy ILiff, Amherst Steele
Kylie Kittrell, Avon
Rivya Veena, Avon
Leah DiFranco, Midview
Gianna Betonte, North Ridgeville
Aubrey Caraballo, Olmsted Falls
2023 All-SWC Honorable Mention
Shyla Plezia, Amherst Steele
Hananiah Smith, Amherst Steele
Emma Fitch, Avon
Reese Thomas, Avon
Ava Lamb, Avon Lake
Mia Machovina, Avon Lake
Miranda Haneberg, Berea-Midpark
Sydney Van Dress, Berea-Midpark
Sabrina Crowley, Midview
Olivia DiFranco, Midview
J'Leena Figueroa, North Ridgeville
Kasey Timko, North Ridgeville
Addison Mullen, Olmsted Falls
Ashley Veverka, Olmsted Falls