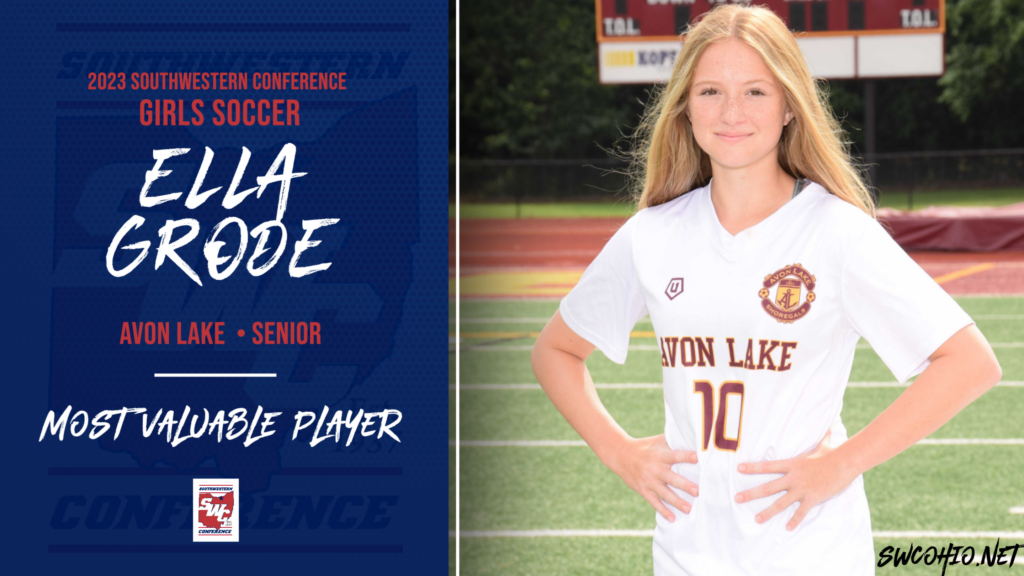 Avon Lake High School senior Ella Grode was named the 2023 Southwestern Conference Most Valuable Girls Soccer Player following the conclusion of the SWC Girls Soccer season. It is the second straight SWC MVP award for Grode.
Avon Lake High School Head Coach Brian Salco was selected 2023 SWC Coach of the Year.
The SWC awarded 13 student-athletes first team honors and 13 more second team recognition in girls soccer. Each school also gets two honorable mention.
2023 SWC MVP
Ella Grode, Avon Lake
2023 SWC Coach of the Year
Brian Salco, Avon Lake
2023 All-SWC First Team
Kamille Coleman, Amherst Steele
Isabelle McGee, Amherst Steele
Sian Blake, Avon
Caroline Prahst, Avon
Laura Caryl, Avon Lake
Ella Grode, Avon Lake
Camryn Koski, Avon Lake
Kristina Hoon, Berea-Midpark
Jayden Daberkow, Elyria
Erica Baldoza, Midview
Rosalie Fontecchio, North Ridgeville
Bri Fitzpatrick, Olmsted Falls
Liz Scheeff, Olmsted Falls
2023 All-SWC First Team Goalkeeper
Ariana Vakos, Avon
2023 All-SWC Second Team
Jillian Markowich, Amherst Steele
Paige Miller, Amherst Steele
Isabella Fusco, Avon
Emma Owens, Avon
Olivia Lengel, Avon Lake
Kate Murray, Avon Lake
Caroline Sidloski, Avon Lake
Alyssa Dickson, Berea-Midpark
Ehlaia Simmons, Elyria
Samantha Pebworth, Midview
Alyssa Gimmel, North Ridgeville
Chloe Hughes, Olmsted Falls
Shannon Voelker, Olmsted Falls
2023 All-SWC Second Team Goalkeeper
Natalie Pleban, Amherst Steele

2023 All-SWC Honorable Mention
Abbey Cooke, Amherst Steele
Alex Vargo, Amherst Steele
Sevilla Anderson, Avon
Skylar Kruszka, Avon
Tera Sansotta, Avon Lake
Brianna Weber, Avon Lake
Jayda Sarges, Berea-Midpark
Brianna Sowul, Berea-Midpark
Mykaela Boddy, Elyria
Ryleigh Hemphill, Elyria
Cameron Hostacky, Midview
Norah Sgro, Midview
CC Bouman, North Ridgeville
Haley Catanese, North Ridgeville
Layla Palange, Olmsted Falls
Natalie Sprague, Olmsted Falls