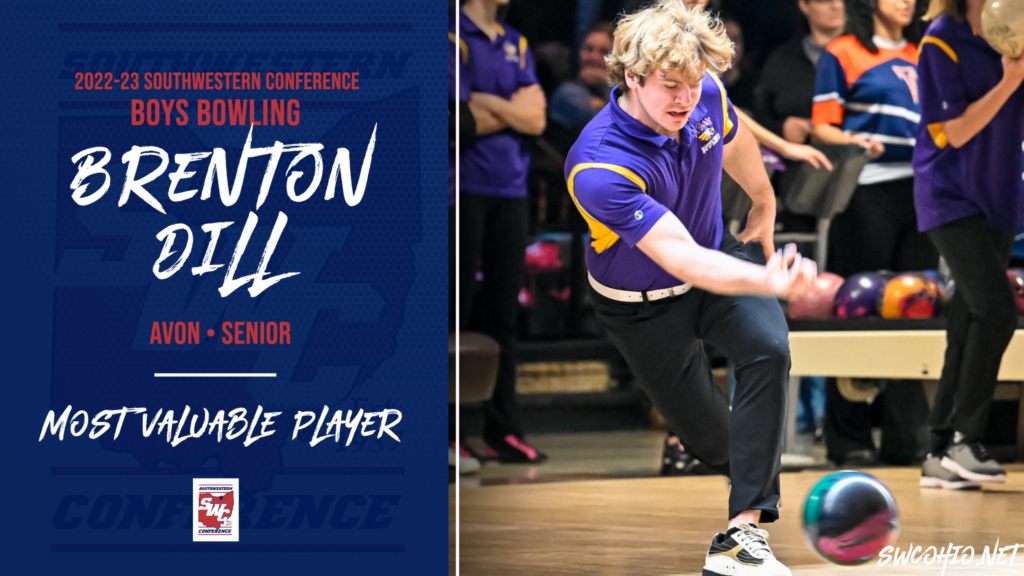 Avon High School senior Brenton Dill was named the 2022-23 Southwestern Conference Most Valuable Player following the conclusion of the SWC Boys Bowling season. It is his third straight year to receive this honor.
Amherst Steele Head Coach Steve Taylor, who led the Comets the overall league championship, was selected 2022-23 SWC Coach of the Year.
The SWC awarded 5 student-athletes first team honors and 5 more second team recognition in boys bowling. Each school also gets two honorable mention.
2022-23 SWC MVP
Brenton Dill, Avon
2022-23 SWC Coach of the Year
Steve Taylor, Amherst Steele

2022-23 All-SWC First Team
Micah Mercardo, Amherst Steele
Brenton Dill, Avon
Jacek Gomez, Avon Lake
Sammy Ellis, Berea-Midpark
Alex Fedyszyn, Midview
2022-23 All-SWC Second Team
Grant Taylor, Amherst Steele
Jake Love, Avon
Atticus Alldredge, Avon Lake
Joshua Hernandez, North Ridgeville
Brandon Poore, Olmsted Falls
2022-23 All-SWC Honorable Mention
Will Bobek, Amherst Steele
Nathan Palos, Amherst Steele
Chris Egger, Avon
Justin Markovic, Avon
Luke Slogar, Avon Lake
Sean Gallagher, Avon Lake
Jayden Miller, Berea-Midpark
Brendan Tinay, Berea-Midpark
Aiden Bedock, Elyria
Bryan Stone, Midview
Noah Jones, Midview
Gabe Harp, North Ridgeville
Sam Lengel, North Ridgeville
Steven Demchak, Olmsted Falls
Noah Sobieski, Olmsted Falls