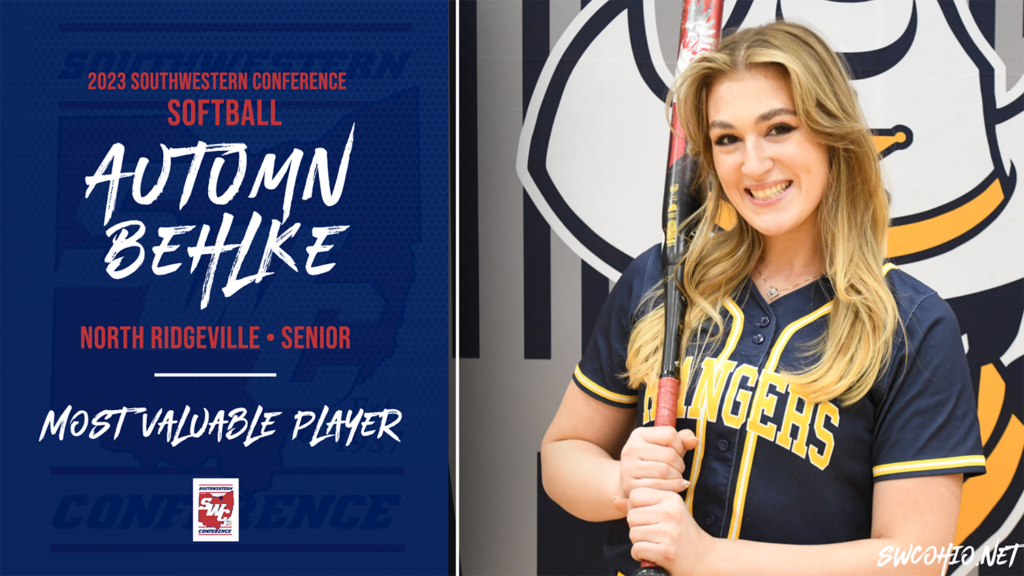 North Ridgeville High School senior Autumn Behlke was named the 2023 Southwestern Conference Most Valuable Player following the conclusion of the SWC Softball season.
North Ridgeville Head Coach Amy McMillan was selected 2023 SWC Coach of the Year.
The SWC awarded 13 position players and 2 pitchers both first team honors and second team recognition in softball. Each school also received two honorable mention selections.
2023 SWC MVP
Autumn Behlke, North Ridgeville
2023 SWC Coach of the Year
Amy McMillan, North Ridgeville

2023 All-SWC First Team Pitchers
Mal Herwerden, Berea-Midpark
Autumn Behlke, North Ridgeville
2023 All-SWC First Team Position Players
Makenna Dorobek, Amherst
Kristen Kelley, Amherst
Lacie Stottlemire, Amherst
Grace Mangan, Avon
Emma Ody, Avon
Sam Peterkoski, Berea-Midpark
Mia Strizak, Berea-Midpark
Ally Williams, Berea-Midpark
Kloie Troutman, Elyria
Lilly Armold, Midview
Olivia DiFranco, Midview
Naomi Bottomlee, North Ridgeville
Gabby Thiubodeaux, North Ridgeville
2023 All-SWC Second Team Pitchers
Sierra Dorobek, Amherst
Jasmine Willis, Midview

2023 All-SWC Second Team Position Players
Emma Nagy, Amherst
Lauren Fischer, Avon
Amelia Holbrook, Avon
Lindsay Revmatas, Avon Lake
Breckyn Daniel, Berea-Midpark
Grace Forgach, Berea-Midpark
Alliyah Alberto, Elyria
Morgan Palos, Elyria
Leah DiFranco, Midview
Lily Tomasheski, Midview
Allie Chinchar, North Ridgeville
Jordan Desmone, Olmsted Falls
Lily Schwecke, Olmsted Falls
2022-23 All-SWC Honorable Mention
Allie Jackson, Amherst Steele
Leah Sprague, Amherst Steele
Jada Smith, Avon
Kayley Thompson, Avon
Erin Dean, Avon Lake
Ella Green, Avon Lake
Jordyn Bechtold, Berea-Midpark
Lauren Fayne, Berea-Midpark
Sarah Manning, Elyria
Natalie Tackett, Elyria
Nina Ballachino, Midview
Olivia Keenan, Midview
Kasey Timko, North Ridgeville
Molly Walton, North Ridgeville
Molly Sheehan, Olmsted Falls
Kate Vormelker, Olmsted Falls