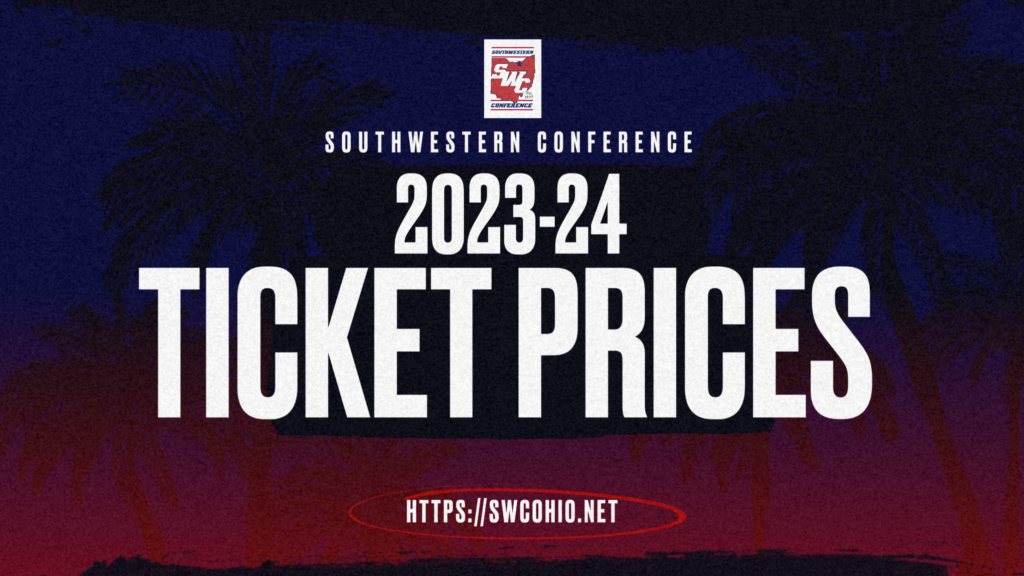 The Southwestern Conference (SWC) announced its regular season ticket prices for the 2023-2024 school year.
There some slight changes from the previous few school years. Notably, senior citizens (60+) will now be admitted free to all of the Southwestern Conference schools' regular season events. In addition, Varsity Football is now $8 General Admission. General Admission for volleyball and basketball now includes all matches/games of a tripleheader.
School staff badges from school districts competing in the athletic contest will be accepted at the gate*. The staff badge is good for one ticket for the owner of the badge. Anyone else in attendance with the staff member must purchase a ticket.
*Example – North Ridgeville vs Avon soccer game (Staff ID badges from North Ridgeville City Schools and Avon Local Schools will be accepted. No badges from other districts will be accepted.)
Southwestern Conference High School Tournament prices will remain $7 for Bowling, Cheerleading, Swimming & Diving and Track & Field, while Wrestling stays at $8. SWC Middle School Tournaments are $5.
Basketball (Varsity/JV/Freshmen)
General Admission – $6
Basketball (JV or Freshmen Stand Alone Games)
General Admission – $3
Football (Varsity)
General Admission – $8
Football (JV or Freshmen)
General Admission – $3
Gymnastics
General Admission – $6
Soccer (JV/Varsity)
General Admission – $6
Swimming & Diving
General Admission – $6
Volleyball (JV/Varsity/Freshmen)
General Admission – $6
Volleyball (JV or Freshmen Stand Alone Matches)
General Admission – $3
Wrestling
General Admission – $6
Middle School Football, Volleyball, Basketball and Wrestling
General Admission – $3