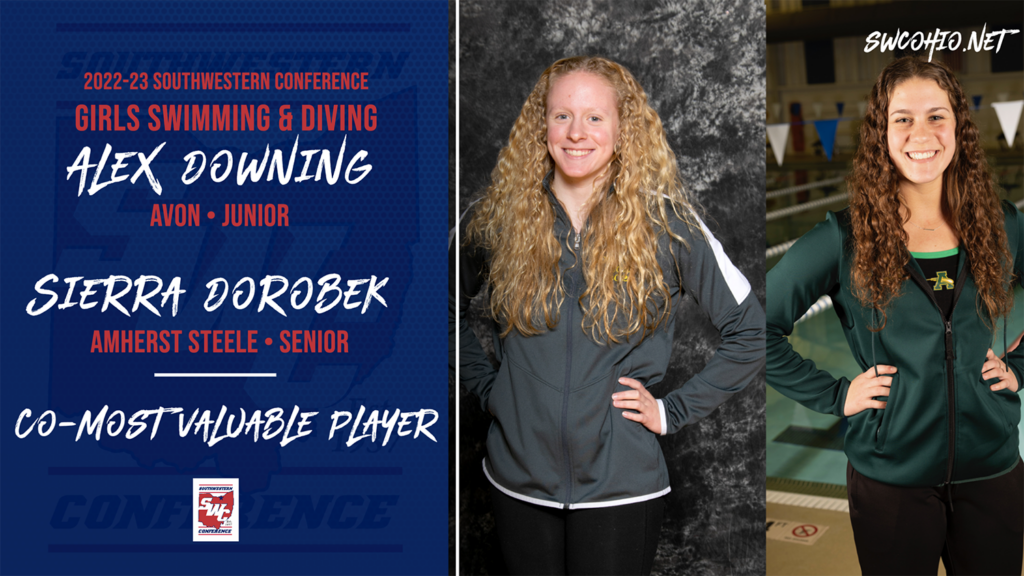 Amherst Steele High School senior Sierra Dorobek and Avon High School junior Alex Downing were named the 2022-23 Southwestern Conference Co-Most Valuable Players following the conclusion of the SWC Girls Swimming and Diving season.
Avon Head Coach Adam Crabtree was selected 2022-23 SWC Coach of the Year.
Results of the SWC Championship determined the first and second team recipients. Each school also gets two honorable mention.
2022-23 SWC Co-MVP
Sierra Dorobek, Amherst Steele
Alex Downing, Avon
2022-23 SWC Coach of the Year
Adam Crabtree, Avon

2022-23 All-SWC First Team
One Meter Diving – Bella Pfeil – Avon Lake
200 Yard Medley Relay – Bridget Kurtzweil, Sierra Kobak, Rayna Swope, Eva Molenaar – Avon
200 Yard Freestyle – Mallory Machay – Avon
200 Yard IM – Bridget Kurtzweil – Avon
50 Yard Freestyle – Sierra Dorobek – Amherst Steele
100 Yard Butterfly – Rayna Swope – Avon
100 Yard Freestyle – Alex Downing – Avon
500 Yard Freestyle – Mallory Mackay – Avon
200 Yard Freestyle Relay – Bridget Kurtzweil, Mallory Mackay, Violet Siftar, Alex Downing – Avon
100 Yard Backstroke – Alex Downing – Avon
100 Yard Breaststroke – Sierra Kobak – Avon
400 Yard Freestyle Relay – Mallory Mackay, Eva Molenaar, Rayna Swope, Alex Downing – Avon
2022-23 All-SWC Second Team
One Meter Diving – Ellyn Huron – Avon
200 Yard Medley Relay – Claire MacKay, Ashley Porr, Alex Wolinsky, Jane Rini – Avon
200 Yard Freestyle – Grace Grove – Amherst Steele
200 Yard IM – Sierra Dorobek – Amherst Steele
50 Yard Freestyle – Ashley Porr – Avon
100 Yard Butterfly – Bridget Kurtzweil – Avon
100 Yard Freestyle – Sierra Dorobek – Amherst Steele
500 Yard Freestyle – Grace Grove – Amherst Steele
200 Yard Freestyle Relay – Sierra Dorobek, Claire Petrillo, AJ Sliman, Grace Grove – Amherst Steele
100 Yard Backstroke – Rayna Swope – Avon
100 Yard Breaststroke – Grace Henely – Midview
400 Yard Freestyle Relay – Sierra Dorobek, AJ Sliman, Claire Petrillo,  Grace Grove – Amherst Steele
2022-23 All-SWC Honorable Mention
Lizzie Sonntag, Amherst Steele
Sophie Millard, Amherst Steele
Sara Lipowski Avon
Ava Baranski, Avon
Abbie Hill, Avon Lake
Adelyn Lee, Avon Lake
Morgan Hartman, Berea-Midpark
Lilly Becker, Berea-Midpark
Kathryn Holliday, Elyria
Jasmine Smith, Elyria
Reagan Henely, Midview
Teah Arnold, Midview
Stephanie Trimbitas, North Ridgeville
Kellie Riley, North Ridgeville
Addie Mackert, Olmsted Falls
Nicole Gaal, Olmsted Falls