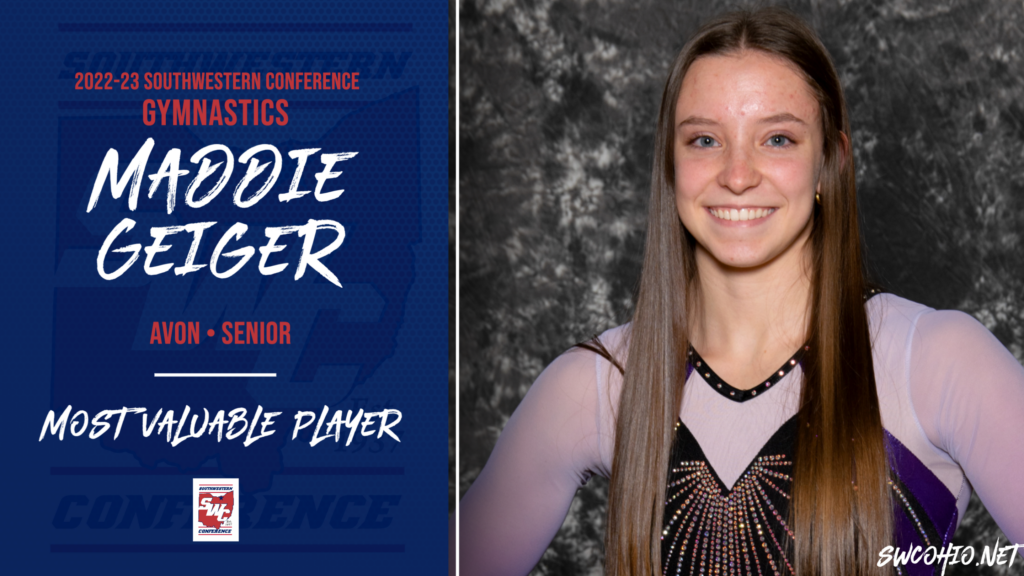 Avon High School senior Maddie Geiger was named the 2022-23 Southwestern Conference Most Valuable Player following the conclusion of the SWC Gymnastics season.
Avon Head Coach Chelsea Cahill was selected 2022-23 SWC Coach of the Year.
The SWC awarded 5 student-athletes first team honors and 6 more second team recognition based on their finish at the SWC Gymnastics Championship. Each school also gets two honorable mention.
2022-23 SWC MVP
Maddie Geiger, Avon
2022-23 SWC Coach of the Year
Chelsea Cahill, Avon

2022-23 All-SWC First Team
All-Around: Maddie Geiger, Avon
Balance Beam: Maddie Geiger, Avon
Floor Exercise: Brooklyn Varga, Berea-Midpark
Uneven Parallel Bars: Meah Peltz, Olmsted Falls
Vault: Maiya Agnew, Berea-Midpark
2022-23 All-SWC Second Team
All-Around: Lydia Bubar, North Ridgeville
Balance Beam: Lydia Bubar, North Ridgeville
Floor Exercise: Emma Roig, Berea-Midpark
Uneven Parallel Bars: Maddie Geiger, Avon
Vault: Maddie Geiger, Avon
Vault: Arianna Nobles, Berea-Midpark
2022-23 All-SWC Honorable Mention
Reilly Small, Avon
Isa Sikora, Avon
Alex Martter, Avon Lake
Anna Ruccella, Avon Lake
Abby Arnold, Berea-Midpark
Julia Peabody, Berea-Midpark
Aly Gelske, North Ridgeville
Alyssa Powers, North Ridgeville
Carley Abbott, Olmsted Falls
Summer Potts, Olmsted Falls