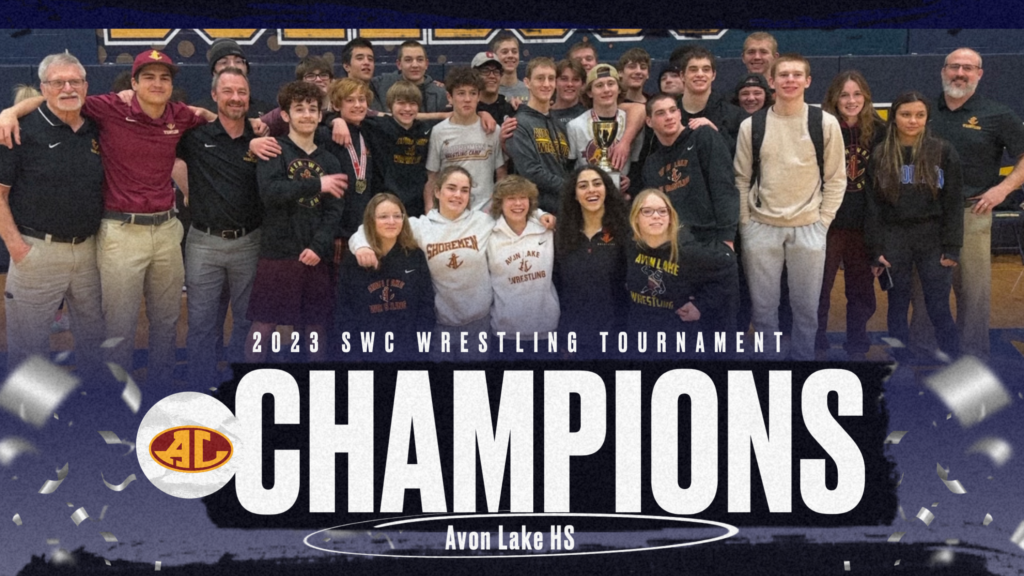 Avon Lake High School won the 2023 Southwestern Conference Wrestling Tournament Championship on Saturday (February 17) on the campus of Olmsted Falls High School. The Shoremen, who compiled 192 points, captured six individual titles en route to its first league crown since 2005. [Complete Results]
Winning individual championships for Avon Lake were Nate Grieger (106), Michael Valerino (120), Jack Valerino (126), Nathan Perry (132), Joe Marconi (157) and Jack Marconi (165).
By virtue of going undefeated in conference duals and taking first place at the SWC Tournament, Avon Lake also won the title outright for the 2022-23 season.
Midview High School finished runner-up at the Tournament with 130.5 points, followed by third-place Avon with 127.0 points and fourth place Elyria with 125.0 points
SWC Tournament Team Scores
1. Avon Lake – 192.0
2. Midview – 130.5
3. Avon – 127.0
4. Elyria – 125.0
5. Amherst Steele – 84.0
6. Berea-Midpark – 83.0
7. Olmsted Falls – 80.5
8. North Ridgeville – 49.0
Overall Point Standings (Regular Season 50% / Tournament 50%)
1. Avon Lake – 20
2. Avon – 15
3. Midview – 14.5
4. Amherst Steele – 11.5
5. Elyria – 8.5
6. Olmsted Falls – 8
7. Berea-Midpark – 7.5
8. North Ridgeville – 4
SWC Tournament Champions

| | | | |
| --- | --- | --- | --- |
| 106 | Nate Grieger (Avon Lake) dec. Vananthony Trunzo (Steele) | | 7-0 |
| 113 | Kaiyon McKinney (Elyria) pin Anthony Mrosko (Avon) | | 1:11 |
| 120 | Blake Cancel (Elyria) pin Gage Barbeau (Midview) | | 2:32 |
| 126 | Michael Valerino (Avon Lake) pin John Foye (Avon) | | 2:58 |
| 132 | Jack Valerino (Avon Lake) dec. Nate Bober (No. Ridgeville) | | 3-2 |
| 138 | Nathan Perry (Avon Lake) maj. dec. Mason Fitch (Avon) | | md9-0 |
| 144 | Andrew Connelly (Olmsted Falls) dec. Riley Atkins (Avon) | | 3-0 |
| 150 | Connor Holm (Elyria) maj. dec. Hunter Anderson (Midview) | | md9-1 |
| 157 | Joe Marconi (Avon Lake) dec. Isaac DiVincenzo (Berea-Midpark) | | 4-2 |
| 165 | Jack Marconi (Avon Lake) pin Gabe Borror (Midview) | | 3:15 |
| 175 | Carter Hinman (Berea-Midpark) maj. dec. Adam Schumacher (Avon) | | md10-2 |
| 190 | Ryan Auvil (Steele) pin Dillion Bell (Midview) | | 4:43 |
| 215 | Darrius Atley (Elyria) pin Clay Broadhurst (Avon Lake) | | 5:47 |
| 285 | Austin Dye (Midview) dec. Edward Powers (No. Ridgeville) | | 3-0 |