ELYRIA, Ohio – Avon Middle School boys and girls swept the 2022 Southwestern Conference Middle School Cross Country Championship Saturday (October 15) on the campus of Lorain County Community College. [Complete Results]
The Eagle boys had five of the top seven finishers, including individual champion Walter Blouch (11:06.20), en route to the title with 23 points. Mateo Muratore (11:46.79), Vincent Palumbo (11:55.80), Nicholas Thompson (11:58.74) and Grady Kramer (12:04.19) placed fourth through seventh, respectively.
Amherst Junior High School's Zane Rhoads (11:27.59) and Jaxon Perez (11:34.07) finished the two-mile race in second and third place, respectively.
The Avon girls top five runners all finished among the best 13 runners. Ava Mellot (12:46.75) ended the morning runner-up, while Reegan Kacenjar (13:33.16) was fourth, Eva Cseh (13:34.14) placed fifth, Paige Millet (13:39.57) finished seventh and Shaye Gorski (13:58.96) took seventh to give the Eagles 31 points.
The individual girls champion was Midview Middle School's Lindsay Magyar, who finished tw0-mile race in 12:42.47.
MS Boys Team Results
1. Avon – 23
2. Learwood – 55
3. Amherst – 56
4. Olmsted Falls – 105
5. Midview – 177
6. North Ridgeville – 163
7. Westwood – 194
8. Berea-Midpark – 223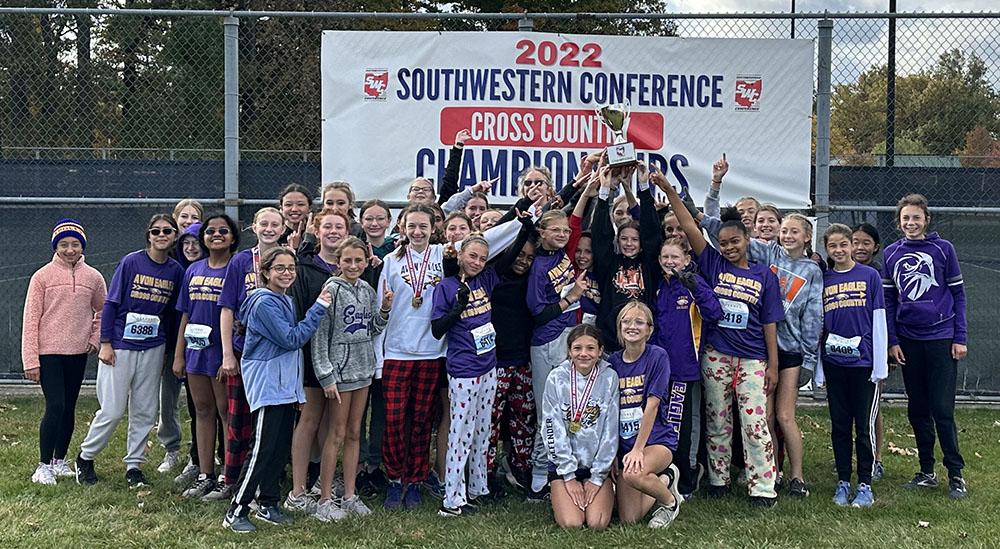 MS Girls Team Results
1. Avon – 31
2. Learwood – 61
3. Olmsted Falls – 98
4. Amherst – 111
5. Midview – 134
6. Berea-Midpark – 152
7. North Ridgeville – 180
8. Westwood – NTS