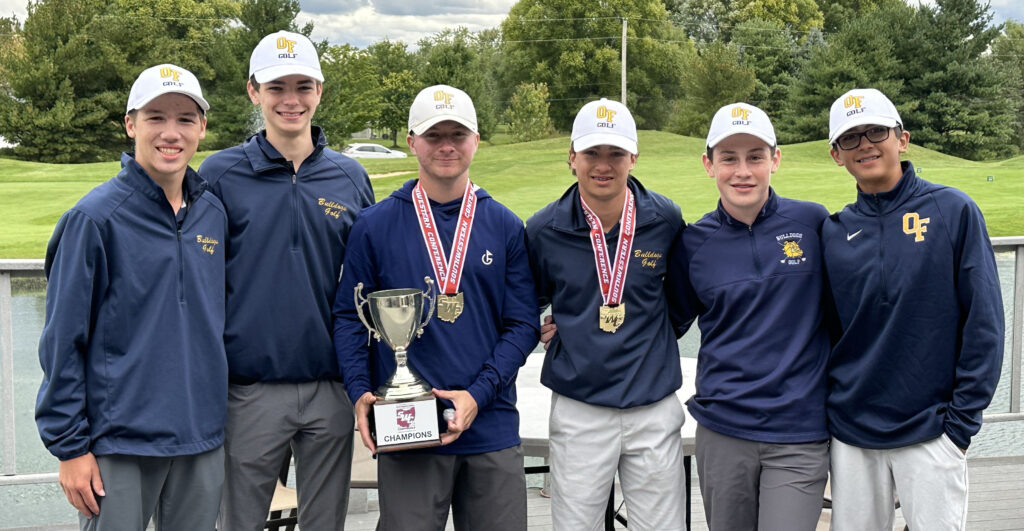 Olmsted Falls High School secured the 2022 Southwestern Conference Boys Golf Championship Thursday (September 22) afternoon. It is the Bulldogs' first boys golf league title in 23 years, having last won the crown in 1999.
Olmsted Falls compiled 42.25 points over the course of the season by tying for second place at the SWC Preview then winning the mid-season tournament (Midview Invitational) and tying for first place in both the regular season dual schedule (6-1 record) and SWC Tournament Championship.
The overall team champion is determined 20% by both the SWC Preview and regular season and 30% by both the SWC mid-season and end-of-season tournaments.
Final Standings
1. Olmsted Falls – 42.25
2. Avon – 40.75
3. Amherst Steele – 32.5
4. Avon Lake – 31
5. Midview – 28.5
T6. North Ridgeville – 17.5
T6. Berea-Midpark – 17.5
8. Elyria – 10