Avon High School and Olmsted Falls High School battled to an 18-hole draw at the 2022 Southwestern Conference Boys Golf Tournament, which took place under autumn-like conditions on Thursday (September 22) at Grey Hawk Golf Club. When the final scores were tabulated both teams accumulated 334 strokes out of their top four golfers to finish as 2022 Co-Champions.
In 2021 the Eagles edged out the Bulldogs by just one stroke, 324-325, at the event, which took place at Pine Hills Golf Club. It initially appeared to be déjà vu for the rivals. However, a scoring error was discovered after the championship, which resulted in the tie.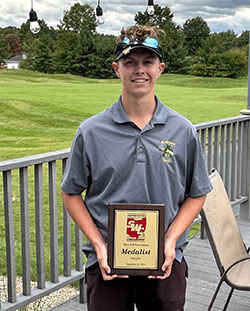 Olmsted Falls was paced by co-runner-up senior Ben Scheeff, who finished with a 7-over-par 79. Junior Dylan Sowers (81) placed fifth, while freshmen Cole Odon (86) tied for 12th and junior Peyton Katitus (88) tied for 14th. Avon had three student-athletes—senior Brenton Dill, junior Hunter McCourt and senior Justice Hargett—all finish with 82 strokes to place sixth, while junior Jackson Cherrstrom (88) tied for 14th.
Midview High School, which was led by co-runner-up Bryan Stone (79) and fourth-place finisher Steven Allen (80) placed third with 335 points. Individual medalist junior Landen Bray finished with a 76 to help Amherst Steele High School take fourth place with 345 points.
Avon Lake High School (358), Berea-Midpark High School (367), North Ridgeville High School (369) and Elyria High School (455) completed the team standings.