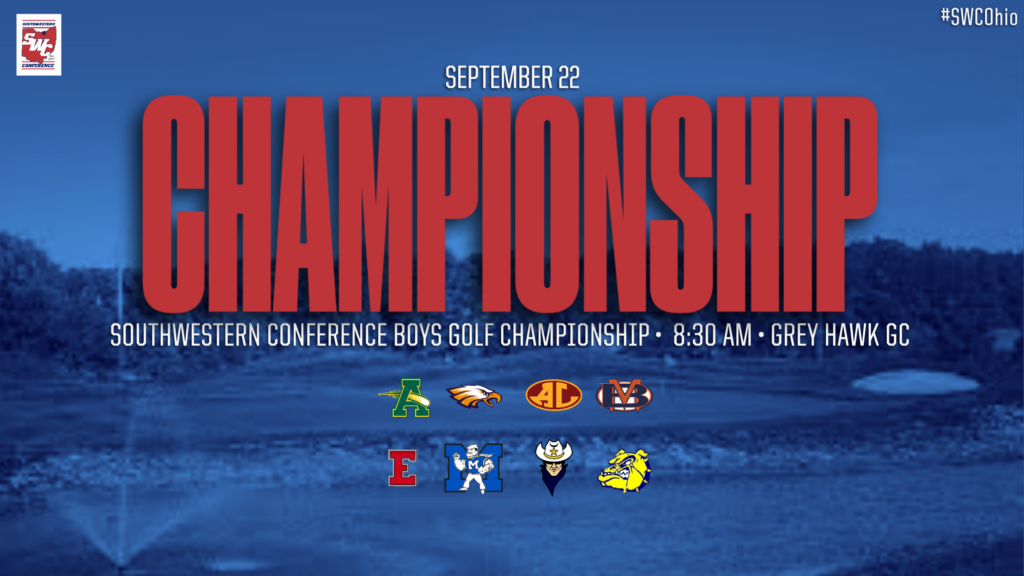 The 2022 Southwestern Conference Boys Golf Tournament Championship will take place Thursday (September 22) at Grey Hawk Golf Club in LaGrange. The end of season tournament features groups starting off the front and back nine and begins at 8:30 a.m. It will help determine the overall team champion, which is decided by a team's standing in the 18-hole preview (20%), regular season (20%), mid-season tournament (30%) and 18-hole championship (30%).
The race for the overall SWC title is mostly between Olmsted Falls High School and three-time defending league champion Avon High School. The Bulldogs enter with 29.5 points and a 1.5-point advantage after placing second at the preview, tying for first with a 6-1 regular season dual record and winning the mid-season tournament (Midview Invitational). The Eagles, who finished first at the preview, tied for first with a 6-1 regular season dual record and placed third at the mid-season tournament, have 28 points.
Olmsted Falls would need to finish just one place lower than Avon at the tournament championship to secure a tie in the final standings since each placement is separated by 1.5 points. If the Bulldogs tie or beat the Eagles in the final 18 holes on Thursday they would be crowned overall championship as long as the two teams–Amherst Steele High School and Avon Lake High School–tied for third place with 23.5 points don't finish at least four spots higher in the standings. All four schools will play together and start off the front 9 on Thursday.
Midview is currently in fifth place with 18 points and will team with North Ridgeville (13), Berea-Midpark (11.5) and Elyria (7) in an attempt to move up the standings with strong play starting on the back 9.
Olmsted Falls senior Ben Scheeff edged his way to the top of the individual leaderboard with 18 holes remaining. He has been battling with Midview senior Bryan Stone throughout the season for the best average "score minus course rating." Scheeff (2.391) has a three-stroke lead over Stone (2,736) in the race for SWC MVP honors. Stone must finish four strokes higher to regain the lead for good.
The top six individuals earn All-SWC first team, while the next six golfers earn All-SWC second team in 2022. Those recipients will be announced on Thursday when the championship is completed.
• 2022 SWC Boys Golf Regular Season Standings
Fans can follow updates throughout the day via the new OHSAA Golf App.