Each month, the Southwestern Conference will recognize student-athletes who are excelling in the classroom as well as those who have demonstrated the highest levels of integrity and sportsmanship.  For November the SWC recognizes the following student athletes:
Scholar Athletes of the Month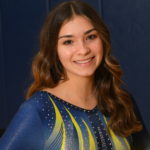 Veronica Waugaman (Sr)
North Ridgeville High School
Gymnastics, Track & Field
Veronica Waugaman is the North Ridgeville and Lorain County record holder in pole vault at 12'4″.  The senior won the 2021 Southwestern Conference championship and took first at both the OHSAA District and Regional meets last spring before finishing 10th at the State meet.  Waugaman currently holds a 4.4 cumulative grade point average and received ARC High Honor Roll all four years.  She is enrolled in AP Calculus and taking three college credit plus courses.  Waugaman is the President of the National Honors Society and a member of Champions 4 Life.  She is also a member of Key Club and completed the Ranger Leadership Academy. The North Ridgeville pole vaulter has committed to attending The Ohio State University next fall as a member of their women's track and field team.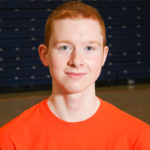 Ethan Barker (Sr)
Berea-Midpark High School
Swimming & Diving
Ethan Barker is one of three Berea-Midpark National Merit Scholarship Program Semifinalists and is currently in the process to qualify for Finalist standing.  The senior swimmer currently holds a 4.64 cumulative grade point average.  Barker has earned Summa Cum Laude honors every semester of high school and received the Yale Book Award and AP Scholar with Distinction last year.  He is currently enrolled in AP Computer Science A, AP English Literature, AP Physics C: Mechanics, French 4 Honors, and taking Pathophysiology at Cuyahoga Community College.  Barker is a member of National Honor Society, a Link Leader at Berea-Midpark and a member of the Yearbook Club.
Sportsmanship Athletes of the Month
Elizabeth Aulisio (Sr)
Elyria High School
Basketball, Track & Field
Senior Elizabeth Aulisio is the captain of the Pioneers girls basketball team for the 2021-22 season.  A member of the National Honor Society at Elyria High School, Aulisio provides leadership to her team and community on a daily basis.
Tyler Smith (Sr)
Midview High School
Football, Wrestling, Baseball
Tyler Smith is a lead-by example type student-athlete.  A captain of both the football and wrestling team, Smith exhibits qualities of inclusion, mutual respect and hard-work that can be emulated by his teammates.  Smith is a great ambassador for Midview each time he competes.  The senior three sport athlete is a member of National Honor Society and a charter member of the Future Business Leaders of America club.  Smith has worked youth camps in both football and baseball throughout his high school career.  In addition, he volunteers to work at home track and field meets for the Midview Athletic Department.