Each month, the Southwestern Conference will recognize student-athletes who are excelling in the classroom as well as those who have demonstrated the highest levels of integrity and sportsmanship.  For September the SWC recognizes the following student athletes:
Scholar Athletes of the Month
Sam Smearman (Sr)
Berea-Midpark High School
Soccer, Basketball, Softball
Captain of the Titans girls soccer program, Sam Smearman finds time to balance being a three sport athlete and earning a 4.51 cumulative grade point average.  The senior goalkeeper is currently enrolled in AP Environmental Science, AP Psychology, AP Statistics and is taking Intro into Humanities at Lorain County Community College.  Smearman is a five-time Student of the Quarter at Berea-Midpark on top of earning Summa Cum Laude honors.  She has earned All-Academic Cuyahoga County and All-Academic Ohio accolades for softball.  When Smearman is not studying or at practice the senior is participating in National Honors Society, National Technical Honor Society, Berea-Midpark's Student Athlete Leadership Team and Key Club.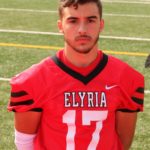 Andrew Palos (Sr)
Elyria High School
Football, Track & Field
Elyria's Andrew Palos currently holds a 4.56 cumulative grade point average and is a leader on the Pioneer football team.  The senior is currently enrolled in AP Physics – Mechanics, AP Physics – Electricity and Magnetism, AP Calculus and College Credit Plus English 161.  Palos volunteers with the community fall clean up project and can be found mentoring several of Elyria's middle school football players.
Sportsmanship Athletes of the Month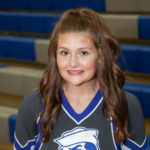 Alyssa Atkinson (Jr)
Midview High School
Cheerleading
Alyssa is a huge part of the Midview cheerleading program and a mentor to future Midview Cheerleaders.  The junior is the Sparkle Cheerleading captain, volunteers to coach the Midview Youth Football K-2 Competition Cheer Team and volunteers her time every Sunday to help coach the Midview Middle School Competition Cheer Team.  Atkinson is a role model and leader both on the sidelines/math and in the classroom and  community.
Hylton Antonio (Sr)
North Ridgeville High School
Soccer
North Ridgeville's Hylton Antonio is a fierce competitor and battles hard in everything he does.  Sometimes, that means he has some pretty tough interactions with the opposition.  During a match, the senior has such a special demeanor.  He instantly turns off the game face and extends a hand to lift up an opponent after going to the ground with them.  He emulates exactly what should be expected out of high level athletes.  Antonio also volunteers for North Ridgeville Youth Soccer and is a member of Champions for Life.