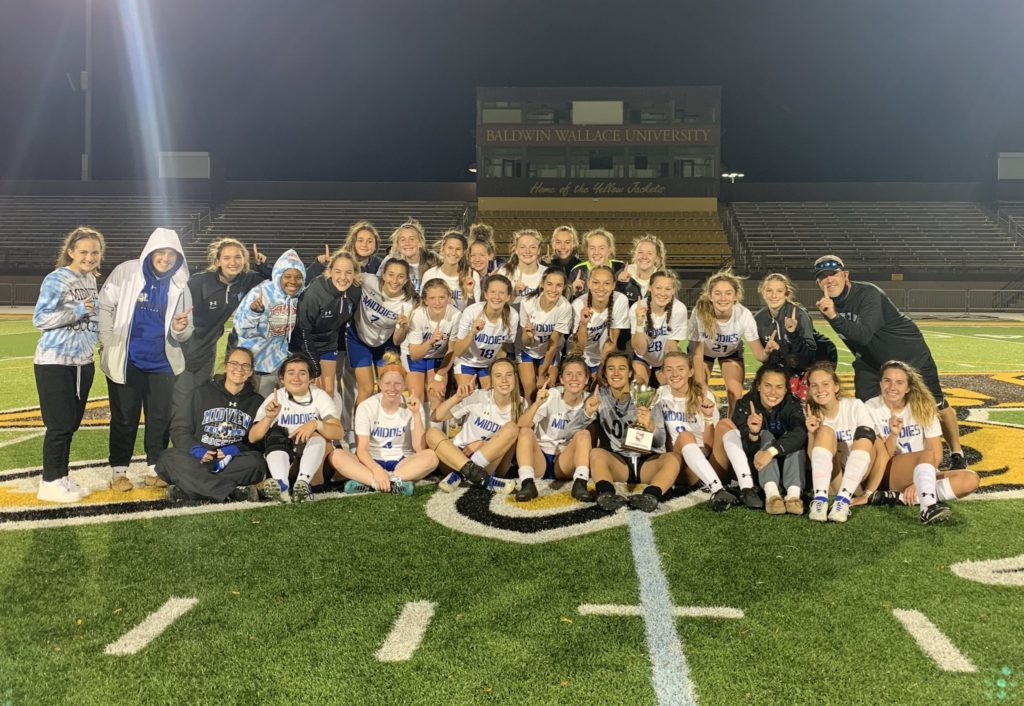 Midview High School Girls Soccer defeated Berea-Midpark High School 2-1 on October 7 to capture the 2020 Southwestern Conference Championship. The league championship is the first of any kind in program history for the Middies, who have fielded a varsity team since the 1995 season.
"Winning the SWC Championship, a first for the program, is an incredibly proud achievement for our players, coaches, school and community," third-year Head Coach John Bena said. "In these uncertain times, the girls never wavered in their quest to accomplish their goal and win a Title. It is something they will never forget and will always remember any time they walk into the gym and see the numbers on the banner."
Midview's squad is anchored by nine seniors—goalkeeper Izzy Patarini as well as defenders Faith Allen, Jillian Filipiak, Grace Girdler, Autumn Vance and Emma Wojciechowski and midfielders Malia Nicholson, Jordan Reddinger and Stephanie Sturgeon.
In addition to the win over the Titans, the Middies defeated North Ridgeville, (3-0), Amherst (2-1), North Olmsted (8-0), Olmsted Falls (2-1) and Avon Lake (1-0), while their lone blemish was a 3-0 loss at Avon. Midview still plays Westlake on Wednesday.
"We are equally as proud to represent such an amazing group of players and coaches in the SWC," Bena added. "Our conference represents the very best in our sport and it is an honor to share a field and compete with the teams in the SWC."