Each month, the Southwestern Conference will recognize student-athletes who are excelling in the classroom as well as those who have demonstrated the highest levels of integrity and sportsmanship.  For April the SWC recognizes the following student athletes:
Scholar Athletes of the Month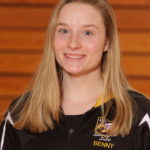 Katt Benny (Sr)
Avon High School
Swimming & Diving
Named the 2019-2020 SWC female swimming and diving MVP, Katt Benny had a tremendous season in the pool on top of her dedication to her academic studies.  Benny currently holds a 4.43 cumulative grade point average and has earned the Highest Honor Roll.  She is currently enrolled in AP Computer Science A, AP Calculus AB as well as enrolled in classes through Lorain County Community College.  When she is not studying, Benny is in the pool, where she dominated the competition this season.  The senior earned four first place medals at the SWC Championship Meet (100 backstroke, 100 freestyle, 200 medley relay, 200 freestyle relay) and went undefeated as an individual the entire dual meet season.  Her time in the pool does not stop with the Eagles.  The Co-President of Avon NHS also works at the local YMCA where she teaches kids with physical and mental disabilities swim lessons.  Benny will be attending The Ohio State University in the fall to study Computer Science Engineering and minor in Spanish.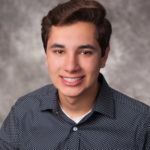 Brandon Hoff (Sr)
Berea-Midpark High School
Track & Field
Senior Brandon Hoff feels, to be a Titan means to push oneself beyond their potential and to follow their passion.  The senior track athlete not only shines in the classroom, but on the stage as well as a tremendous musician.  In his time with Berea-Midpark, Hoff has earned several music awards, including the the Exceptional Musicianship Award in 2018 and the Highest Achievement in Orchestra Award in 2019.  A member of the symphonic orchestra, Hoff holds a 4.51 cumulative grade point average and will graduate with Summa Cum Laude Honors for all four years.  The senior is currently enrolled in AP Psychology, AP Biology, AP Calculus BC as well as Honors Organic Chemistry.  Hoff is a member of  Berea-Midpark National Honors Society as well as a Link Leader and member of the Berea-Midpark Student-Athlete Leadership Team.  Brandon will be attending The Ohio State University this fall where he will study Biochemistry with aspirations to attend medical school to become a surgeon or dermatologist.
Sportsmanship Athletes of the Month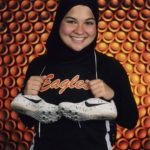 Ayah Zureiqat (Sr)
North Olmsted High School
Soccer, Track & Field
North Olmsted High School athletic department honors students who exhibit outstanding sportsmanship each sports season.   Ayah Zureiqat has been selected as the North Olmsted High School sportsmanship winner by her high school soccer and track and field coaches this year.  Zureiquat is a four-year member of the Eagle soccer and track and field teams.  She is also a 2-year member of NHS and a member of Model UN.Ayah's soccer coach, Bob Armentrout said Ayah is a great team leader, incredibly hard working, and motivates everyone around her.  Zureiquat has been a volunteer with the North Olmsted Soccer Organization for the past 2 years.  She was a volunteer at the NOSO Cup Tournament and a coach for the younger students in North Olmsted.  In addition to working with the youth soccer club, Ayah has helped out at the Mayor of North Olmsted's art show as well as be a volunteer for theSt. Mary of the Falls father and daughter dance.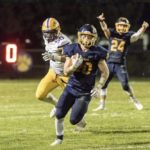 Stephen Ellis (Sr)
Olmsted Falls High School
Football, Track & Field
You may recall Stephen Ellis from our Southwestern Conference Football Preview video released this past August.  Head track & field coach John Novotny has been extremely proud of his senior and the development he has shown on and off the track.  "Stephen is a standout athlete in football and track as well as being a very good student.  He has worked hard, is a leader, and has exhibited quality sportsmanship throughout his career at OFHS." A scholar athlete, football captain and a member of Olmsted Falls National Honor Society, Ellis will continue his education and football career this upcoming fall at Taylor University in Upland, Indiana.