Each month, the Southwestern Conference will recognize student-athletes who are excelling in the classroom as well as those who have demonstrated the highest levels of integrity and sportsmanship.  For September the SWC recognizes the following student athletes:
Scholar Athletes of the Month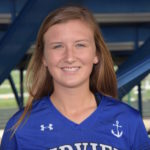 Natalie Maver (Senior)
Midview High School
Soccer & Basketball
A four-year letter award recipient in both soccer and basketball, Maver holds a 4.41 cumulative grade point average and will graduate Summa Cum Lade.  She is currently ranked #1 in the Midview class of 2020 and has earned both the High Honor Roll award as well as the Midview Scholar-Athlete award three times.  A member of NHS for two years, Maver is currently enrolled in AP English, AP Environmental Science and taking Biology as well as Psychology and Sociology at Lorain County Community College.  Maver earned the 2019 Academic All-Ohio in girls soccer as well as the 2019 SWC Scholar Athlete for Midview soccer.  She is a member of Key Club, Student Council, Link Crew and Go Boxer Rescue.  Maver will continue her soccer career at NCAA Divison II Seton Hill University next fall where she plans to major in Physical Therapy.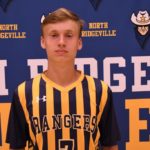 Andrew Ross (Senior)

North Ridgeville High School
Soccer
North Ridgeville senior Andrew Ross has put an emphasis on academics his entire high school career.  Entering the 2019-20 school year, Ross has received the honor roll and has been recognized in North Ridgeville's Academic Recognition Ceremony the previous three years.  He is currently in his fourth year of being a member of the National Honors Society and holds a 4.6 cumulative grade point average.  Ross balances soccer and studying for his AP Calculus and AP Research classes while also being a member of North Ridgeville's Spanish Club.
Sportsmanship Athletes of the Month
Macy Dimacchia (Senior)
Amherst Steele High School
Cheer & Track and Field
Dimacchia is the Vice President of National Honor Society, where she takes an active role in their community service projects. A multi-sport athlete, Dimacchia works hard in her academics as well as her push for track and cheer. As a cheerleader, she is one of Amherst Steele's top performers who takes a critique with the intent to change it, leads the team, and is constantly growing as a person as well as on the competition floor. In Track & Field, Dimacchia is one of the Comets top hurdlers.  She is an all-conference performer who leads both on and off the Track.  In addition to Cheer and Track, Dimacchia is a member of Student Council and Eco League.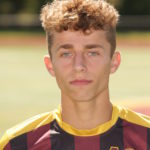 Drew DelGiudice (Senior)
Avon Lake High School
Soccer
A leader of the Southwestern Conference championship boys soccer team, DelGiudice is always willing to lend an extra hand when asked and needed.  Off the pitch, DelGiudice participated in Toys for Tots and volunteered at the elementary school Fall Festival.  He is a valuable member of the Shoremen soccer team as he treats every teammate with the same respect.  He is often found early to practice to help teammates at every level of the Shoremen soccer program improve their game.