The first ever SWC Leadership Conference was held at North Olmsted High School on Tuesday, February 12th.  Each SWC school  selected ten student athletes  they viewed as potential leaders in their school. The purpose of the conference was to provide leadership tools to the athletes to convey to their peers when they return to their home school.  The hope was for each athlete to take a lesson home with them and apply it in their everyday life.  Keynote speaker Curt Miller lead off the conference followed by several other speakers who would speak to the importance of leadership.  Information conveyed to the students touched on  ways to be great teammates, more effective leaders, good decision makers, and better family members.   After each speaker spoke, a brief Q & A was given and poignant questions by these young people were posed to each of the speakers.  Responses to difficult questions were answered honestly by the individuals who spoke.  Dr. Liz Okuma, Vice President and Dean of Students at Hiram college, provided "ice breaker activities" to help the athletes get to know other individuals from the other ten SWC schools as well as reinforcing topics discussed by the speakers and provide team building and leadership opportunities.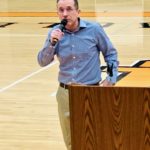 Keynote speaker Curt Miller is currently the Head Coach and General Manager of the WNBA Connecticut Sun.  At the SWC Leadership Conference on Tuesday Curt talked about his professional journey. Miller shared how he started his coaching career by taking advantage of opportunities that were offered to him. He began his coaching career as a middle school basketball coach when he was still in high school.  Curt went on to say during his college years he volunteered his time as a coach with the hopes of eventually getting a chance to move into a higher level of coaching. Miller said, "there is no such thing as luck.  Hard work creates opportunities."  Coach Miller also spoke to the importance of being a good teammate and how to be a good leader.  When recruiting players at games, he explained how he looks at how players react on the bench and during timeouts.  He shared how he keeps track of ways the various players treat each other.  Such as if they help each other up, how often they provide a high five/fist pump, and how well they support one another.  In the afternoon session, Curt opened up and talked about the struggles he faced growing up and throughout his adult life.  Coach Miller took the audience through an emotional roller coaster with the adversity he and his family have gone through.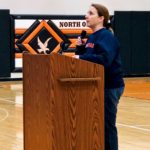 In addition to Coach Miller, all of the students had the opportunity to work with  Dr. Liz Okuma who volunteered to spend her day at the conference sharing her wisdom and knowledge through activities and discussions pertinent to these future leaders.  Dr. Okuma, through her 20 plus years as a college professional added another valuable perspective on what it takes to be a leader.  As the Dean of students at Hiram College, Dr. Okuma also incorporated leadership and cooperative opportunities through the "ice breaker activities" and games in which the students participated.  The students had a chance to use the tools shared to help with problem solving as a unit rather than individually.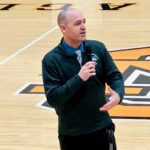 During the morning session, students also heard from Dave Frattare and Jason Trusnik.  Mr. Frattare currently Works for the Ohio Prosecutor's office in Cuyahoga County and the Ohio Internet Crimes Against Children Task Force. Frattare talked about the dangers associated with chat rooms, social media, file sharing and mobile apps. He also discussed the importance of "think before you post" and the importance of thinking through each and every post to social media because once it is posted, it can be seen by anyone anywhere in the world.  Colleges and future employers check social media accounts of potential recruits or employees to help determine whether or not that person is a good fit for their school or work place.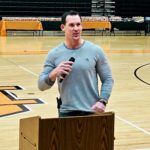 Jason Trusnik, a former Cleveland Brown, played in the NFL for ten years and currently co-owns Pro Sports Performance gym in Strongsville.  Trusnik talked about his journey to the NFL.  His story started with his limited playing experience at Nordonia High School, he continued with his college career at D3 Ohio Northern, and eventually finished with his amazing ability to overcome all of the naysayers and make it into professional football.  Jason talked about how people would tell him he is too small or too slow and how the colleges he would visit would tell him to get faster and bigger. He said, "leaders do not choose followers, followers choose leaders".  A statement which seemed to resonate to the student athletes present at the conference.  He talked about never giving up on a dream and it can be done if you believe in yourself and work hard enough.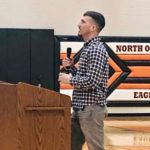 Vince Morgan, a 2010 NOHS graduate, is currently the owner of Morgan Improvement.  Morgan talked about the issues he had in high school and afterwards involving drug abuse.  Vince mentioned that along his path of drug use he went from marijuana to prescription pills and eventually to heroin.  Morgan talked about his relationships being destroyed, being homeless for three months, and his battles to stay out of jail. Vince went through rehab eight times.  After the eighth time Vince finally realized he needed to change the people with whom he surrounded himself. Morgan said that was the hardest thing to do…separate himself from his friends.  Vince has been sober for over three years and is happily married with children.  Addiction is something that must be overcome each and every day and Vince continues the battle to remain sober every day.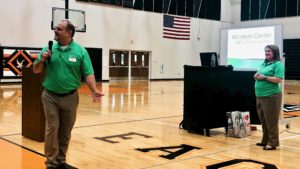 Kelley and JD Deir of the McIntyre Center treats those suffering from substance abuse and addiction. Kelley and her husband JD talked about how people react differently to drugs.  Each has their own drug of choice that create an addiction.  They emphasized the  importance of understanding addiction is a disease and not a choice.  Once a person develops an addiction, their brain does not have the ability to stop the desire for the opioid, causing the addict to go to great lengths to get their next "fix".  They also talked about how to help and support individuals who suffer addiction.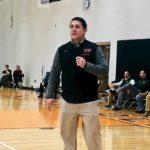 Tom Watts and Chicho Rodriguez were the final presenters  of the day. Tom Watts is currently the Head Football Coach at Ohio Wesleyan University. Coach Watts brought current OWU senior collegiate athlete Chicho Rodriguez to tell his story.  Coach Watts felt that Chicho could relate to the students in attendance.  Touching on his transition moving to the United States from Ecuador as a young child, Chicho shared his family's struggles while he was growing up and spoke to his constantly being an angry, negative, and unhappy person.  After experiencing several setbacks at the beginning of his college years, Chicho decided to change his mindset.   He was determined to start each day with a positive attitude.  No matter what happened, he would find the positive in it.  That changed his life. To his own surprise, this change of attitude lead him to being voted as one of the team captains on the football team. He also said, "leaders are not the guys that scream the loudest nor are they the best player."  This young man turned a life of anger to one of happiness and success just by assuming a positive attitude.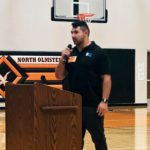 The Southwestern Conference is proud of the young men and women to took part in the leadership conference.  We look forward to see their growth as leaders at their respective high schools over the next few years and beyond their high school career.  We thank each of the speakers who took the time to reach out to the participants in the conference