Avon Lake won its third straight Southwestern Conference Championship in girls golf after shooting a team score of 327 in the 2018 Southwestern Conference Girls Golf Tournament Championship at Sweetbriar Golf Club.
The Shoregals were followed by Westlake and Olmsted Falls who both recorded a team score of 362.
Avon Lake's Paighton Masteron won the indivdiual medalist award with her tournament score of 71.  Westlake's Emily Fankhauser finished in second place (77), followed by Olmsted Falls' Sam Torres and Alyson Veverka tied for third (81).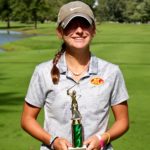 Top Ten Individuals
1. Paighton Masterson (AL) – 71
2. Emily Fankhauser (W) – 77
3. Sam Torres (OF) – 81
– Alyson Veverka (OF) – 81
5. Emma Davies (AL) – 83
– Julia Parchetta (AV) – 83
7. Maggie Owen (AL) – 84
8. Liz Thieken (AL) – 89
9. Rosalyn Friend (AM) – 90
10. Lauren Akers (W) – 93
Team Results
1. Avon Lake – 327
2. Westlake – 362
– Olmsted Falls – 362
4. Avon – 390
5. Amherst – 394
6. North Olmsted – 422
7. Midview – 448
8. North Ridgeville – 456
9. Berea-Midpark – 464