Each month, the Southwestern Conference will recognize student-athletes who are excelling in the classroom as well as those who have demonstrated the highest levels of integrity and sportsmanship.  This month the SWC recognizes the following student athletes:
Scholar Athlete of the Month:
Kayla Snowden (Senior)
Amherst Steele High School
Cross Country and Track & Field

Snowden is a three time varsity letter recipient in cross country as well as track and field.  She holds a 4.386 cumulative grade point average and is currently ranked fifth in the Amherst Steele class of 2019.  She received the Amherst Steele academic award for superior grade point average for her freshman, sophomore and junior years.  Snowden will also receive the AP Scholar Award for recording a score above three on three AP tests.  She is currently enrolled in AP Biology as well as AP Anatomy and participates in Student Council and National Honors Society.

Sportsmanship Athlete of the Month: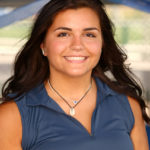 Emilee Cruz (Junior)
Midview High School
Girls Golf and Track & Field
In Midview High School's first year of having a girls golf program, the focus for the Middies this season is on the rules of the game and golf etiquette. Cruz has done a great job of representing Midview with class and sportsmanship, regardless of the situation. She works hard to improve her game and has quickly learned to love the sport.  Cruz is a member of Key Club and Link Crew. She also plays summer softball and is a member of her church's Youth Group. Cruz is also a thrower and two-year member of the track and field team at Midview.